Ecover
Ecover Toilet Bowl Cleaner Pine Fresh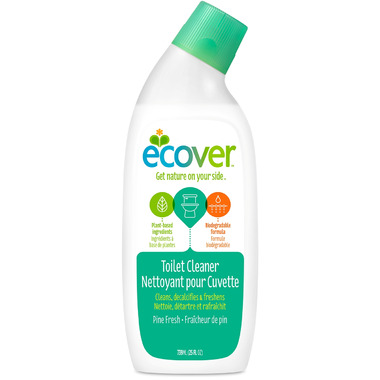 Ecover
Ecover Toilet Bowl Cleaner Pine Fresh
739 mL
Ecover Toilet Bowl Cleaner Pine Fresh
is rated out of
5
by
31
.
---
Description
Ecover Toilet Bowl Cleaner helps you give the toilet bowl a thorough clean without those eye-watering chemical smells. With its multi-action decalcifying agent, once round the rim with Ecover Toilet Cleaner with a scrub keeps your loo clean and fresh.
Features:
Cleans, decalcifies, and freshens
Eliminates stains and mineral deposits, leaving nothing but a sparkling shine
Made using biodegradable and plant-based ingredients
Bottle made with recycled and plant plastic
Ingredients: Aqua, Citric Acid, Lauryl glucoside, Sodium Citrate, Xanthan Gum, Fragrance, Sodium Benzoate, Limonene (allergen).

Highlights

Shipping & Returns
Rated

1

out of

5
by
DL
from
SEVENTH GENERATION IS MUCH BETTER!
AWFUL SMELL! PLEASE BRING BACK the Seventh Generation CYPRESS AND FIR toilet bowl cleaner!!!!!!!!!!!!!!!!!!!!!!!!!!!!!!!!!!!!!!!!!!!!!!!!!!!!!!!!!!!!!!!!!!!!!!!!!!!!!!!!!!!!!!!!!!!!!!!!!!!!!!!!!!!! I bought this because the Seventh Generation brand Cypress and Fir (lovely forest) scented toilet bowl cleaner was no longer available. Very disappointed in the sickly scent of the ECOVER brand.
Date published: 2020-07-05
Rated

5

out of

5
by
Margo74
from
This works really well, and it also has a very refreshing, clean scent. I am not someone who likes scented things, and I'm often sensitive to heavily scented things, but I really like the smell of this product. Which is probably a bit of a weird and unimportant feature to talk about for a toilet bowl cleaner, but, hey, if you need to use a toilet bowl cleaner it might as well smell fantastic.
Date published: 2020-09-23
Rated

5

out of

5
by
Mayawata
from
One of my favourite eco brands!
Smells great, does the job and makes me feel like I did something good for the planet. No nasty chemicals in this product, which is what I always go for when I look for household items.
Date published: 2021-05-05
Rated

5

out of

5
by
Andrea
from
My go-to toilet cleaner
Safe for septic systems and works like a charm! Smells good too!
Date published: 2021-12-07
Rated

1

out of

5
by
Rebecca
from
Worst toilet bowl cleaner
I was super disappointed in this product. It has an overpowering smell that goes into the next room and lasts for hours. It gives me a headache almost instantly. I will not be purchasing this product again.
Date published: 2021-05-07
Rated

4

out of

5
by
Elisa
from
Amazing!
I bought this after I couldn't find Seventh Generation's toilet cleaner. This brand has a decent B+ rating in EWG dabatase, which fine. I did like the bottle design, as it doesn't leak when applying it. The scent is lovely but a bit too strong.
Date published: 2020-07-29
Rated

5

out of

5
by
K
from
Good for daily cleaning
I'm picky about scents, but the smell of this product is, in my opinion, great. I use it daily, and it does the job. I have yet to tackle a really dirty toilet with this cleaner, so I can't speak on how well it works in that department.
Date published: 2021-09-22
Rated

5

out of

5
by
HealthyMe
from
A Gem!
This cleaner works well and it has a very clean scent. I usually don't like scented things and I'm very sensitive to heavily scented things. This product I like the smell of. I get compliments on how clean my bathroom smells.
Date published: 2022-05-16