Eden Organic
Eden Organic 100% Whole Grain Kamut & Quinoa Twisted Pair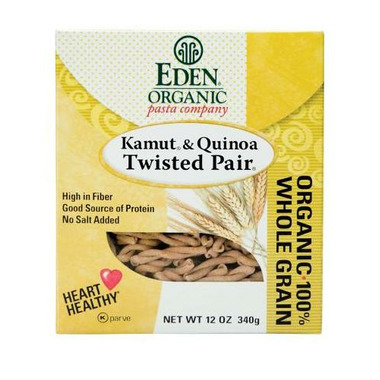 Eden Organic
Eden Organic 100% Whole Grain Kamut & Quinoa Twisted Pair
Description
A potent combination of two ancient grains, Kamut and Quinoa in fork friendly twist, aka 'gemelli'. Uniquely satisfying, it's their best selling most nourishing macaroni cut.
Rich in healthy fiber and magnesium. A good source of protein, iron, thiamin B1, niacin B3, and zinc. Universally appealing whole grain pasta in a reclosable, recycled and recyclable box with a tasty recipe on the back.

Ingredients: 70% Organic Whole Grain Kamut Wheat, 30% Organic Whole Grain Quinoa.

Highlights

Shipping & Returns