Eden Organic Instant White Miso Soup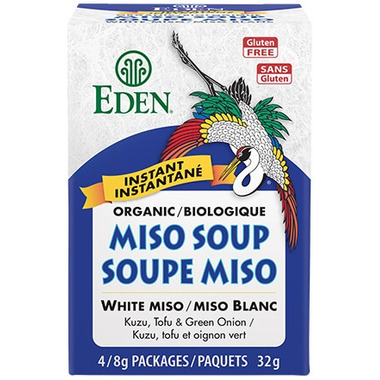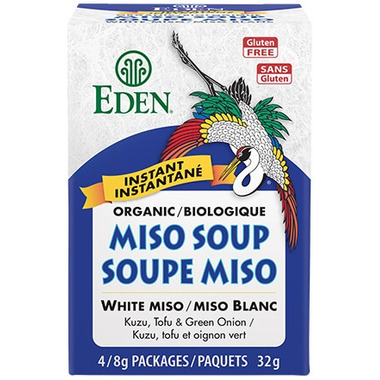 Eden Organic Instant White Miso Soup
Each makes a nice serving in one minute. Just add 8 ounces of hot water, stir, and allow it to bloom for 1 minute. Traditionally made organic shinshu miso and organic ingredients in handmade miso soup. Freeze-drying best preserves the miso soup's flavor, nutritional values, color, and aroma. Miso soup subtleties remain unaltered with only the water being gently removed.

Organic kuzu, silky cubes of organic tofu, and organic green onion balance, add flavour, texture, and nutrients. Conveniently packaged for quick soothing richness and the benefits of high quality miso soup. Homemade deliciousness, pure and purifying. Great for home, office, school, and travel - anywhere, anytime. A smart pantry item. Zero bad stuff, no MSG, autolyzed yeast extract, or any other untoward chemical additives. Gluten Free. Eden tested Non-GMO.

Ingredients: Organic Rice Miso (Organic Whole Hulled Soybeans, Organic Short Grain Rice, Lake Salt, Koji Aspergillus oryzae), Organic Kuzu, Organic Freeze-Dried Tofu (Organic Whole Soybeans, Organic Kuzu, Nigari Magnesium chloride), Organic Green Onions. Made on equipment that handles sesame seeds.