Enerex Botanicals Serrapeptase 120,000 SU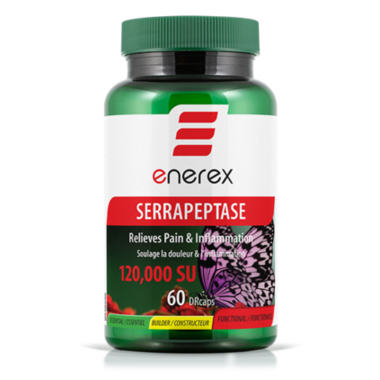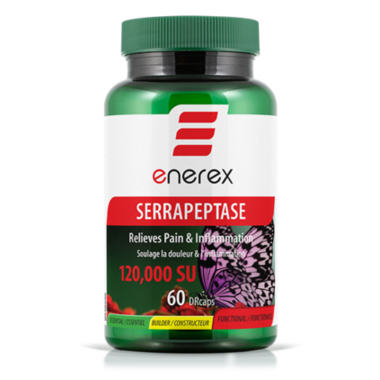 Enerex Botanicals Serrapeptase 120,000 SU
Enerex Botanicals Serrapeptase is a natural enzyme that effectively reduces pain, inflammation, as well as mucous build-up. Whether symptoms stem from injury, surgery, or disease such as arthritis or sinusitis, its action disrupts pain pathways and restores your body's persistent inflammatory response to reduce swelling and improve circulation. This productive and efficient "miracle" enzyme can easily bring comfort and relief for better health.

Directions: Adults: Take one capsule on an empty stomach 30 minutes before or 2 hours after eating with a glass of water or as advised by a health care practitioner.

Medicinal Ingredients:
Serrapeptase (Serratiopeptidase, Serratia marcescens (E-15) whole cell)
120,000 SU. ..............60 mg

Non-Medicinal Ingredients: Organic brown rice flour*, magnesium stearate, gellan gum, hypromellose (vegetarian cellulose complex DRcaps = Delayed Release capsule). There are no other ingredients added to this formula.


Lisa:
a few months ago
Works great!! Just 2 days and relief from breathing problems. A month later I am off of all my puffers (3). And no side effects like puffers have and only work enough to keep the breathing under control as long as I just sat and did nothing. Too bad I didn't know about this several years ago already. This product has given me my life back.
Tracy:
a few months ago
Wonderful product. My husbands hip pain is gone. Our 18 year old dog was at death's door. He is doing much better since I have given him Serrapeptase. My scars from breast cancer surgery are almost completely gone. They got quite itchy (healing). And they had been quite red. Now I really have to look closely to even see them! Yes, a great product indeed !! And my husband gets his own. I don't have to remind him to take it. That is NOT his normal ! LOL
Page
1