Enfamil A+ Ready to Feed Bottles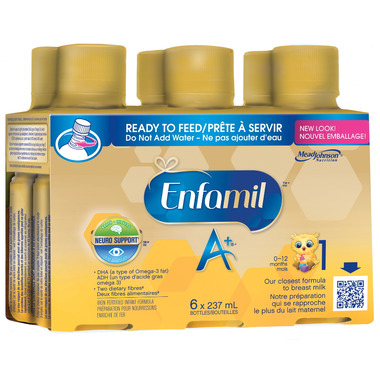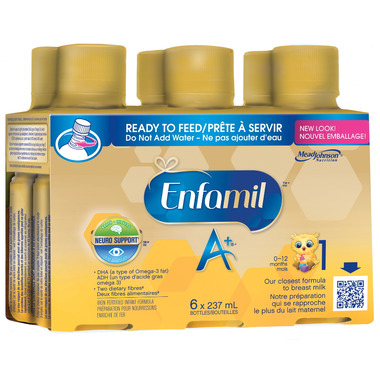 Enfamil A+ Ready to Feed Bottles
This item is a final sale item. Returns cannot be accepted.
Enfamil A+ Ready to Feed is Enfamil's closest formula to breast milk.

About DHA:
Your baby's brain more than doubles in size the first year of life. That's why it's an important time to give him DHA, a type of Omega-3 fat and a building block of an infant's rapidly growing brain. Enfamil A+ contains a clinically proven level of DHA. 9 out of 10 doctors who would feed infant formula to their own children would use a DHA-enriched formula*.
Nourish your baby's development.

Enfamil A+ contains:
A clinically proven level of DHA, an important building block of your baby's developing brain
Two dietary fibres, galactooligosaccharides (GOS) and polydextrose
A protein blend of whey and casein patterned after breast milk†
* Data on file
† Based on whey:casein ratio of typical mature breast milk (15 days to 6 months after birth)."
Support your baby's normal brain and eye development