Enfamil
Enfamil Poly-Vi-Sol Liquid Multi-Vitamin Supplement
For Infants & Children Under 3 Years Of Age 50 mL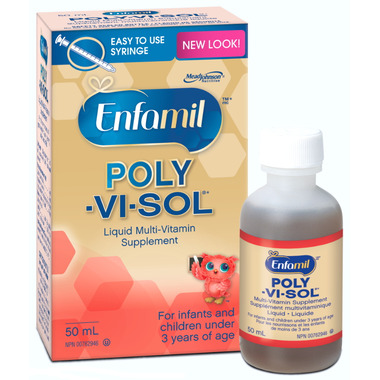 Enfamil
Enfamil Poly-Vi-Sol Liquid Multi-Vitamin Supplement
For Infants & Children Under 3 Years Of Age
50 mL
Enfamil Poly-Vi-Sol Liquid Multi-Vitamin Supplement
is rated out of
5
by
9
.
---
Description
Enfamil Poly-Vi-Sol Liquid Multi-Vitamin Supplement is recommended for babies and children under 3 years of age. As your baby grows, his nutritional needs change. The Enfamil family of vitamins helps you ensure he is receiving the recommended level of vitamin D, and additional nutrients he may need, at every stage of his development.

Features:

Vitamin A: To help maintain good health
Vitamin B

Vitamin D: To help develop and maintain healthy bones and teeth
Vitamin C: To help develop and maintain bones, cartilage, teeth and gums
Kosher Dairy
Include a dropper for a safe dosage every time
You may wish to speak to your baby's doctor before introducing a multivitamin supplement to your baby.
Shipping & Returns
Rated

5

out of

5
by
Aybi
from
Kinda expensive but it's all good. I have no hard time administering it to my kid. Strong smell though.
Date published: 2011-12-16
Rated

3

out of

5
by
Jessica
from
My 17 month old eats anything but he really dislikes the taste of this. I thought it would be good to have on hand when we have days that he doesn't eat as much or if we are on the road and he's not getting as many nutritious options as I'd like. Going to keep trying to offer it to him and maybe mix it into something to disguise the taste.
Date published: 2016-06-30
Rated

5

out of

5
by
KristyF
from
Buy these for my daughter until she is old enough to have the chewable vitamins like her siblings. They are often sold out around where I live so it is super convenient to get them from Well.ca and then I don't have to worry about running out!
Date published: 2021-09-18
Rated

5

out of

5
by
Mommy
from
I read that it tastes and smells horrible and was worried about trying it on my baby but she loves it. So, try it first with your kids before dismissing it from the reviews about the awful smell.
Date published: 2012-06-01
Rated

5

out of

5
by
Olga
from
This product was suggested to me by my doc. I am happy I feed my baby the daily dose of vitamins designed specifically for her, so she can stay healthy and her body develop well.
Date published: 2011-08-18
Rated

5

out of

5
by
Dave
from
Obviously vitamins are key to a babies growth. The drops are easy to give and the amount is small. Make sure not to get any of this product on your clothes!
Date published: 2012-03-16
Rated

4

out of

5
by
Erin
from
This has a strong smell and does not taste good. My kids always sputter and pucker. But they still take it with out a fight. So we continue to buy it.
Date published: 2012-11-27
Rated

5

out of

5
by
Maria
from
Very good multivitamin my 4 year old love's the taste it's a little strong for my 5 months i just add it to any liquid and loves taste
Date published: 2018-01-03