Entrophen
Entrophen 81mg Daily Low Dose ASA Preventative Therapy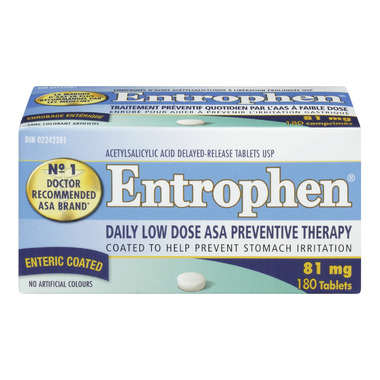 Entrophen
Entrophen 81mg Daily Low Dose ASA Preventative Therapy
180 Tablets
Entrophen 81mg Daily Low Dose ASA Preventative Therapy
is rated out of
5
by
8
.
---
Description
Entrophen® 81 mg is for doctor-supervised, long-term, preventive therapy in adults to prevent a second stroke or heart attack (daily therapy).
It also may be used during a heart attack. If you think you are having a heart attack, call an ambulance immediately, and crush (Entrophen 81 mg) and ingest 2 tablets. It is very important to crush the product, to ensure this medicine works quickly.
Entrophen 81 mg has a special enteric coating to help prevent stomach upset.
The special enteric coating of Entrophen 81 mg tablets allows them to pass intact through the stomach and on into the intestine before they dissolve which may reduce the risk of stomach upset.
Medicinal Ingredient:
Acetylsalicylic Acid (ASA) ... 81 mg
Non-medicinal Ingredients (in alphabetical order):
Colloidal Silicon Dioxide, Lactose Anhydrous, Methacrylic Acid Copolymer Type C, Methylated Silica, Methylcellulose, Polydimethylsiloxane, Polyethylene Glycol, Pregelatinized Starch, Sodium Bicarbonate, Sodium Lauryl Sulphate, Sorbitan Tristearate, Stearic Acid, Talc, Titanium Dioxide, Triethyl Citrate.
Dosage:
Adults: As daily therapy: 1 to 4 tablets daily as directed by a physician. Tablets must be swallowed whole, not crushed, broken or chewed, in order to protect the enteric coating. Do not exceed the dosage recommended by your doctor.

Warnings/Precautions:
Entrophen should not be used if you:
Are allergic to ASA or any ingredient within the formulation.
Have an active stomach ulcer
Have a history of asthma induced by salicylates or other anti-inflammatory drugs
Are using methotrexate at doses of 15 mg per week or more
Are in the last trimester of pregnancy
Are prone to bleeding
This product is not recommended for children or teenagers. Do not administer to children or teenagers for chicken pox or flu symptoms before a physician is consulted about Reye's syndrome, a rare but serious illness reported to be associated with ASA. It is especially important not to use this drug during the last 3 months of pregnancy unless specifically directed to do so by a doctor. Consult a doctor before taking this drug when nursing.
Ibuprofen may interfere with the protective benefits of ASA. Talk to your doctor if you are on an ASA regimen and taking Ibuprofen for pain. Keep out of reach of children. This package contains enough medication to seriously harm a child.
Should you require consultation with a pharmacist, you may
contact our Well.ca Pharmacist.
Please read the label, warnings and inserts provided by the manufacturer and consult your healthcare professional when purchasing medications or natural health products to be sure the product is right for you.
Shipping & Returns
Unfortunately, due to the nature of this item, we cannot accept any returns.
We are only able to ship this item to Canadian customers.
This item cannot be shipped to Quebec due to provincial pharmacy regulations.
Click here for more information
Rated

5

out of

5
by
Martha
from
Great product
I take a low-dose ASA every day, so I am always looking for value in the product. This is a great product at a great price!
Date published: 2023-03-16
Rated

4

out of

5
by
Lynn
from
Product arrived in a very timely manner and works as well as any brand name low-dose Asa product
Date published: 2012-10-17
Rated

5

out of

5
by
Penelope
from
My husband takes these every day and I like that I can buy him 6 months worth at a time.
Date published: 2015-08-19
Rated

5

out of

5
by
Jeff
from
Why pay the hefty price for the national leading brand?!! This works for me!
Date published: 2015-12-02
Rated

5

out of

5
by
Merri
from
Need these daily, so it is nice to have them delivered to the door.
Date published: 2011-12-10
Rated

5

out of

5
by
Michael
from
Best value for money; does exactly what it says on the tin.
Date published: 2016-09-24
Rated

5

out of

5
by
Renee
from
Good price and home delivery, need I say more :o)
Date published: 2012-10-10
Rated

5

out of

5
by
Ronald
from
Not only Cheaper but Canadian! ;)
Date published: 2016-06-06