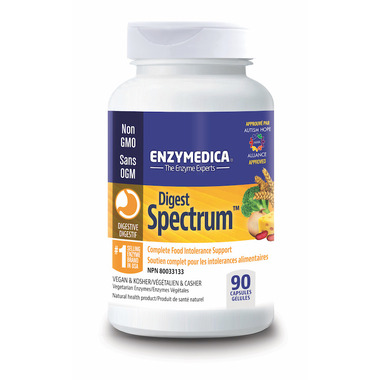 Description
Enzymedica Digest Spectrum is a unique combination of high-potency enzymes that provides specialized digestive support for individuals who experience intolerance to foods containing gluten, dairy, phenols, vegetables and beans.
Dosage:
1-2 capsules with each meal. More may be taken as needed. Capsules may be opened and contents mixed with food or juice.
Medical Ingredients: Amylase Thera Blend (CA)1 7,000 FCC DU, Protease Thera Blend (CA)*1 w/DPP-IV 70,938 FCC HUT/1,644 FCC PC, Lipase Thera-blend -CA2 400 FCC LU, Cellulase Thera-blend CA2 200 FCC CU, Invertase 3 75 FCC SU, Lactase41, 1,000 FCC ALU, Maltase5 100 FCC DP, Glucoamylase5 20 FCC AGU, Alpha Galactosidase5 300 FCC GaIU, Pectinase5 25 Endo-PGU, Xylanase6 3,300 XU, Hemicellulase5 25 FCC HCU, (*1 Fungal, Bacterial source), (*2 Fungal source), (*3 Saccharomyces cerevisiae), (*4 Aspergillus oryzae), (*5) Aspergillus niger), (*6 Trichoderma longibrachiatum). Non-medicinal Ingredients: 100% vegetarian capsule (cellulose, water, magnesium citrate

Contains no: egg, dairy, preservatives, salt sucrose, soy, wheat, yeast, nuts, corn, gluten, casein, potato, rice, artificial, colors or flavors.
Highlights

Ingredients
Amylase Thera Blend (CA)1 7,000 FCC DU, Protease Thera Blend (CA)*1 w/DPP-IV 70,938 FCC HUT/1,644 FCC PC, Lipase Thera-blend -CA2 400 FCC LU, Cellulase Thera-blend CA2 200 FCC CU, Invertase 3 75 FCC SU, Lactase41, 1,000 FCC ALU, Maltase5 100 FCC DP, Glucoamylase5 20 FCC AGU, Alpha Galactosidase5 300 FCC GaIU, Pectinase5 25 Endo-PGU, Xylanase6 3,300 XU, Hemicellulase5 25 FCC HCU, (*1 Fungal, Bacterial source), (*2 Fungal source), (*3 Saccharomyces cerevisiae), (*4 Aspergillus oryzae), (*5) Aspergillus niger), (*6 Trichoderma longibrachiatum). Non-medicinal Ingredients: 100% vegetarian capsule (cellulose, water, magnesium citrate
Shipping & Returns