Escuminac No. 1 Great Harvest Maple Syrup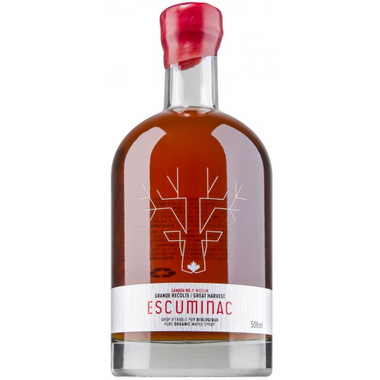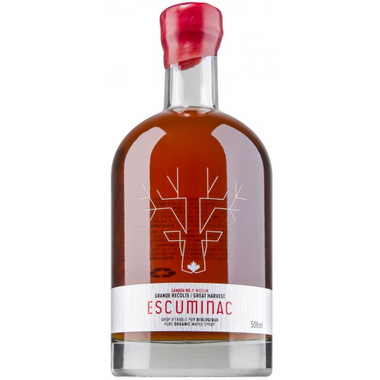 Escuminac No. 1 Great Harvest Maple Syrup
Escuminac Great harvest maple syrup is the most popular in our range because it is readily available but also because of its complex and mild mouthfeel. This maple syrup Category A is both extra fine and extremely richly flavoured.
Its aromatic profile brings to mind warm buttered brown sugar, date purée, English toffee and green anise with a subtle hint of curry. Flavourful, it is fullbodied, rounded, textured, pronounced and syrupy, but not overwhelming, and has a very long finish. A grand cru!
This is the serious stuff, ideal for robust recipes and tangy cocktails with a barrel-matured eau-de-vie base (bourbon, cognac, scotch, etc.). In the kitchen, pair it with soy sauce, curry, huitlacoche, wild rice, lovage, celery salt, roasted chicory, coffee, tonka bean, vanilla, black licorice, nigori sake, kirsch, roasted fenugreek and candy cap or chaga mushrooms.
Canada Category A maple syrup with a dark, robust taste.
Minerals:
Iron, Calcium, Sodium, Riboflavin, Magnesium, Zinc, Manganese

Tasting Notes:
by François Chartier - Creator of harmonies
Intense and deep golden colour. Simultaneously extremely delicate and very rich, with an aromatic profile of great complexity (brown sugar /hot butter /date puree /caramel /aniseed /curry). It presents as dense, full, textured, captivating, syrupy, without being over the top, with a very long finish which literally lines the palate. A great vintage!
To make full-bodied cocktails, using spirits which have been finished in barrels, (bourbon, cognac, rum, scotch). In your cooking, mix it with the following ingredients: soya sauce, curry, huitlacoche, wild rice, lovage, celery salt, roasted chicory, coffee, tonka bean, vanilla, licoricey, sake nigari, kirsch, toasted fenugreek seeds, candy cap mushroom, change mushroom.
Serve:
Room temperature, ideally
Storage:
3 years in a cellar - 6 to 12 months once opened – Keep refrigerated for quality - After opening.
Ingredients:
pure organic maple sap

Method:
In Spring, at the thaw, when the wood of the maple trees swells and temperatures in the daytime are positive (+10°C) and negative at night, conditions are ideal to begin the harvest. During this short period, the maple sap begins to flow. The harvested sap must be boiled on the same day. Heating at a constant high heat has to be mastered by the maple syrup producer. Slowly, the water contained in the sap evaporates, the sugars are gently concentrated. Following a complex sequence of chemical reactions, when the syrup reaches a temperature of 104°C and 66°Brix, the sap becomes maple syrup (pH 7). Produced and bottled at the ESCUMINAC sugarwood.