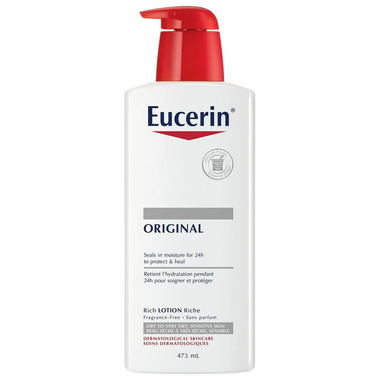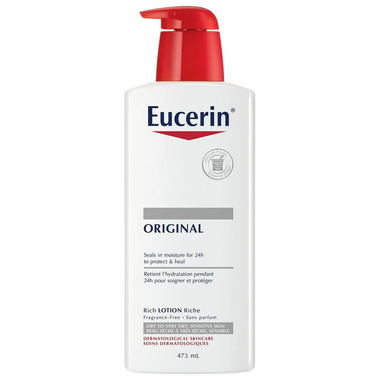 Eucerin Original Lotion provides long-lasting moisturization to help relieve, soothe and protect very dry, sensitive skin.
Eucerin Lotion Recommended for: Body
Use for
: Drying medications
Eucerin Benefits:
Nourishing formula seals in moisture and restores skin's protective barrier
Rich yet non-greasy mild formula
Fragrance-free, non-irritating and won't clog pores
Dermatologist recommended
How does it work? Clinically proven water-in-oil (w/o) formula preventing moisture loss and replenishing the hydrolipid layer to restore moisture to compromised skin.

Eucerin Lotion Ingredients:
Water/eau, petrolatum, mineral oil/huile minérale, ceresin, lanolin alcohol, methylchloroisothiazolinone, methylisothiazolinone.
Key Ingredients:
Mineral Oil, Propylene Glycol, Lanolin Alcohol