Excilor Liquid Effective Nail Fungus Solution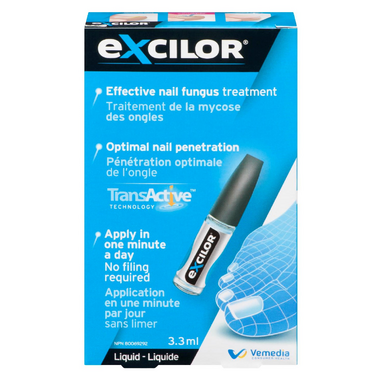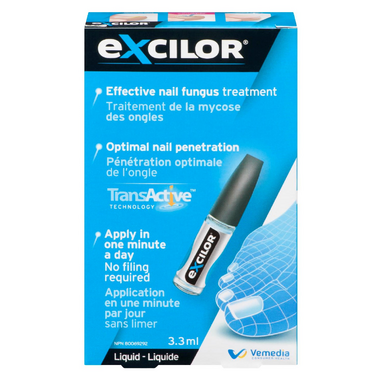 Excilor Liquid Effective Nail Fungus Solution
Features:

Optimal nail penetration Transactive™ technology
Apply in one minute a day - no filling required
Changes the pH level inside the nail, creating a hostile environment for fungi (dermatophytes)
Effective treatment - clinically proven
Quick visible results as healthy nail grows back
Ease of use – fits perfectly into your daily routine

How to Use:
ADULTS: Apply Excilor to the infected area two times a day (once in the morning and once in the evening). Clean the nail and remove all polish before using Excilor. Use the applicator to coat the whole nail and the underside of the nail rim with the product. Apply Excilor generously but do not press down hard on the applicator when applying the product. Allow the nail to dry before putting on socks or shoes. This will not take much longer than 1 or 2 minutes and allows the formula to penetrate the nail. Treat the area until the nail has recovered completely. This can take several months.
Ingredients:
MEDICINAL INGREDIENTS (per dose unit) ACETIC ACID: 1% (SYNTHETIC), NON-MEDICINAL INGREDIENTS: purified water, ethyl lactate, acrylates/ammonium methacrylate copolymer, dimethyl isosorbide, decylene glycol, biotin, PPG-15 stearyl ether, glycerol, polysorbate 80, acetylated lanolin alcohol.
Warnings:
This product is for external use only. Do not take orally. If accidental ingestion occurs, seek medical attention. Keep out of reach of children. Avoid contact with eyes and mucous membranes. Rinse thoroughly with water if contact with eyes or mucous membranes is unavoidable. Consult a health care practitioner if symptoms persist or worsen. In case of diabetes, consult your doctor regularly if you have foot problems. Do not use the product in case of hypersensitivity to any of the ingredients. Do not use if you are pregnant or breastfeeding.