Ferodan Syrup Ferrous Sulfate Oral Solution USP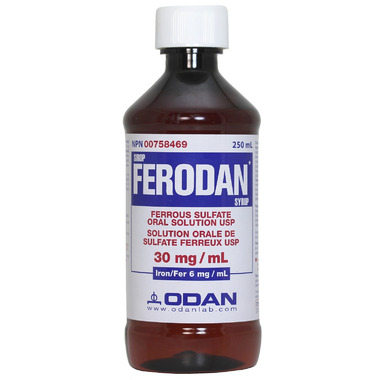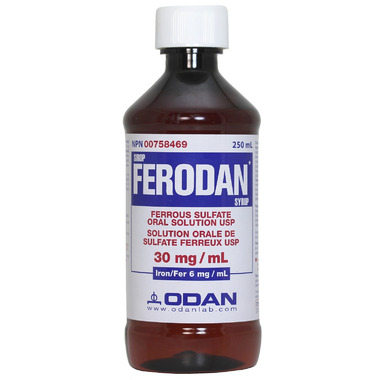 Ferodan Syrup Ferrous Sulfate Oral Solution USP
- We're sorry, this product is no longer available!
- Shop for other products in: Iron

Ferodan Syrup is a Ferrous Sulfate Oral Solution USP with 6 mg of iron per mL.

Iron is a factor in the maintenance of good health. It helps to form red blood cells and helps in their proper function. Use as directed by a physician.
Each teaspoon (5 mL) contains:
Medicinal Ingredient: Ferrous Sulfate Heptahydrate 150 mg equivalent to 30 mg of Elemental Iron.

Non-Medicinal Ingredients: Citric acid, flavours (lemon, strawberry and pineapple), glycerin, purified water, sodium benzoate, sodium metabisulfite, sorbitol, and sucrose. Free of lactose, tartrazine and gluten.

Chemical Name: Ferrous Sulfate
Dosage: 30mg/ml