For Breast Tissue Formation & Normal Growth
150 Capsules (1 Month Supply)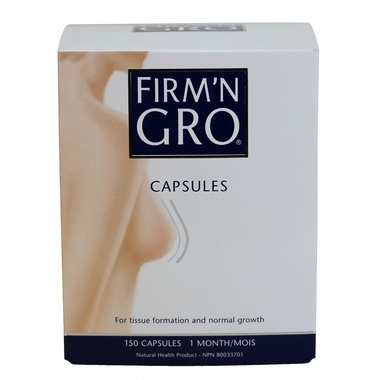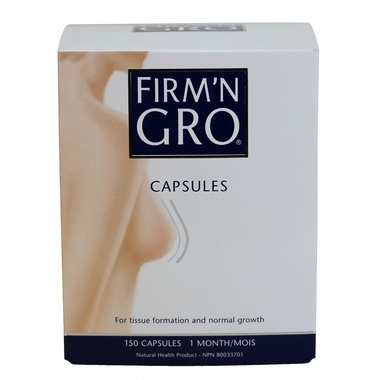 Firm'N Gro Capsules
For Breast Tissue Formation & Normal Growth
150 Capsules (1 Month Supply)
Firm'N Gro is a 100% natural supplement specially developed for larger and firm breasts. Firm' N Gro is an all natural treatment product based on six carefully selected grains and three types of hops. It stimulates the existing glandular tissue in the breasts. The isoflavones in Firm N'Gro, also called plant hormones, promote the production of body hormones. The body responds, as in puberty, with the production of glandular tissue.
Features & Benefits:
100% Natural
The isoflavones in Firm'N Gro activates the production of the body's own hormones
Firm'N Gro imitates the breast development process of women in the puberal period
With Firm'N Gro your breasts will undergo this process again in a natural way. During the first 8 weeks the breast development is initiated. By then, your breasts will have already become fuller and firmer. For optimal results you should use the product for 6-8 months.
Medicinal Ingredients:
Each capsules contains:
Hops (Humulus lupulus) (flower) ... 221 mg
Providing Vitamin B1 (Thiamine) ... 0.014 mg
Vitamin B2 (Riboflavin) ... 0.016 mg
Soy extract (Glycine max) (bean) ... 69 mg
Buckwheat (Fagopyrum esculentum) (seed) ... 49 mg
Black oats (Avena sativa) (seed) ... 49 mg
Malt (Semen Hordei vulgaris germinatum) (seed) ... 24.5 mg
Barley (Hordeum vulgare) (seed) ... 24.5 mg
Rye (Secale cereale) (seed) ... 24.5 mg
Wheat (Triticum aestivum) (seed) ... 24.5 mg
Maize (Zea mays) (seed) ... 24.5 mg
Non-Medicinal Ingredients:
Colloidal silicon dioxide, magnesium stearate, hypromellose.
Instructions:
Adults: The first week take 2 capsules a day, the second week take 4 capsules a day, then for the rest of the treatment take 5 capsules spread over the course of the day with lots of water and preferably after meals. The effect is seen only if the prescribed number of tablets is taken for a long period of time at least 8 to 12 weeks.
Maintenance Dose:
Once the 8 month treatment is ended it is recommended to take a maintenance dose of 1 to 2 capsules a day. The results and the way things progress after you stop taking Firm'N Gro varies depending on the person and the age. To determine your maintenance dosage base yourself upon what you see in the mirror.
Please take note:
A small percentage of women will not react to the treatment and their breast tissue will not develop. This cannot be determined before use. If no tingling or visible results are seen after 2 to 3 months discontinue use.
Contraindication:
Do not use during pregnancy or if breastfeeding. Do not use in combination with hormone therapy, thyroid medication or if suffering from hypertension.
It is recommended that people taking medication or suffering from a health problem consult a health practitioner before taking herbal supplements.
Side Effects:
None.
This product does not contain any preservatives. The ingredients of this 100% natural patented product are obtained from carefully harvested and selected cereal crops and plants. No substance of animal origin has been added to this product. The cultivation of the crops complies with the requirements of the European Food Industry.