First Response Prenatal Multivitamin Gummies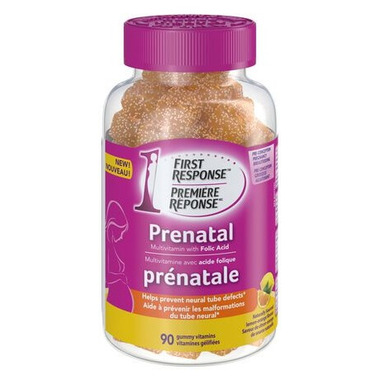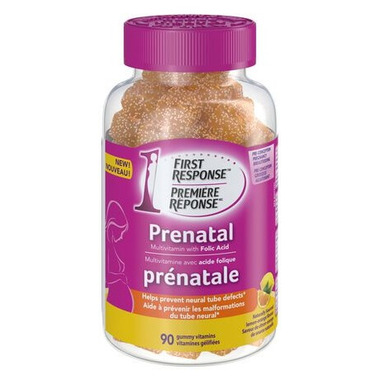 First Response Prenatal Multivitamin Gummies
First Response Prenatal Multivitamin Gummies helps prevent neural tube defects, provides calcium for nursing moms and has a naturally sourced lemon-orange flavour.

Pregnancy can place different demands on a woman's body. During this exciting time, it's important that you're getting the essential nutrients you need for both your baby's health — and yours. Specially formulated for women who are pregnant or nursing, you'll love the delicious, lemon-orange flavour of these prenatal vitamins.
Helps Prevent Neural Tube Defects
Folic Acid is an essential B vitamin that is especially important for women of childbearing age who are capable of becoming pregnant, or are pregnant. It is advised that women talk to their physician about the recommended amount of folic acid they should be taking.
Helps Maintain Bone Health
Bones not only support our body but also protect our internal organs. Pregnancy changes your body and adds pressure to the bones. It is therefore essential for pregnant women to maintain their bone health so she can maintain a protective shield for her baby for the months to come.
Provides Calcium for Nursing Moms
Calcium is the most abundant mineral in the body with 99% of it being stored in the bones and teeth.
Helps Maintain Immune Function
Immune system helps to keep our body healthy and prevent sickness and infections.