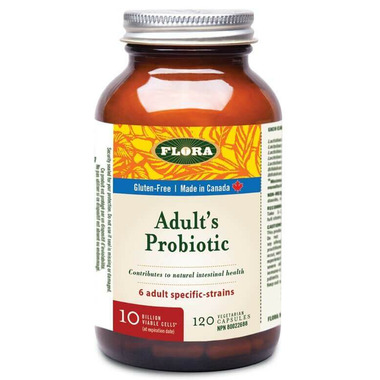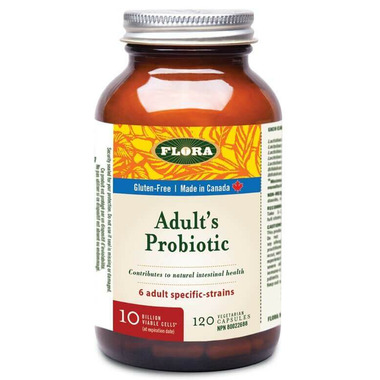 Formulated to meet the needs of adults aged 19 to 54, Flora Adult's Probiotic provides 10 billion live micro-organisms per capsule at date of expiry. These live friendly bacteria colonize in your system, shoring up your natural microflora. This formula contains 6 probiotic strains, including 2.5 billion cfu (colony forming units) each of Lactobacillus casei and Lactobacillus rhamnosus.
Recommended Dose:
Adults:Take 1-3 capsules daily after meals or on a full stomach.
Features
Each vegetarian capsule guarantees a minimum of 10 billion viable cells per capsule at date of expiry (a minimum of 17 billion at time of manufacture)
Contains medicinal human strains of live probiotic bacteria that ensure better survival and colonization rates than transient strains
Formulated with selective strains that survive the hydrochloric acid in the stomach, thus eliminating the need to use potentially allergenic enteric coatings
Contains only pure, concentrated living probiotic bacteria, free of additives, yeast and Fructooligosaccharides (FOS)

Medicinal Ingredients: Colony Forming Units (CFU)
Lactobacillus casei
HA-108 3.5 billion
Lactobacillus rhamnosus
HA-111 2.5 billion
Lactobacillus acidophilus
HA-122 2.0 billion
Lactobacillus plantarum
HA-119 1.0 billion
Bifidobacterium bifidum
HA-132 0.5 billion
Bifidobacterium breve
HA-129 0.5 billion
Non-medicinal Ingredients:
Ascorbic acid, silicon dioxide, stearic acid, potato starch and hypromellose

Cautions:
Discontinue use and consult a health care practitioner if symptoms of digestive upset (e.g. diarrhea) occur, worsen, or persist beyond 3 days.
Do not use if you are experiencing nausea, fever, vomiting, bloody diarrhea or severe abdominal pain.
Do not use if you have an immune-compromised condition (e.g. AIDS, lymphoma, patients undergoing long-term corticosteroid treatment).
This product has come into contact with milk and soy lecithin. Do not use this product if you have milk or soy allergy.
Please be advised that Well.ca follows manufacturer guidelines for storing & shipping probiotics. This product will be shipped with an ice-pack to maintain product efficacy.