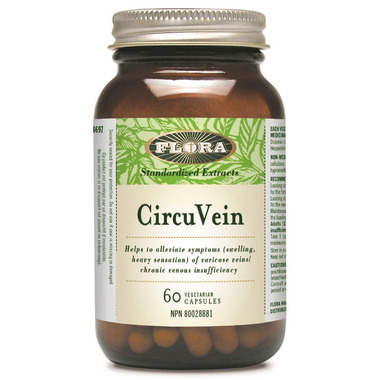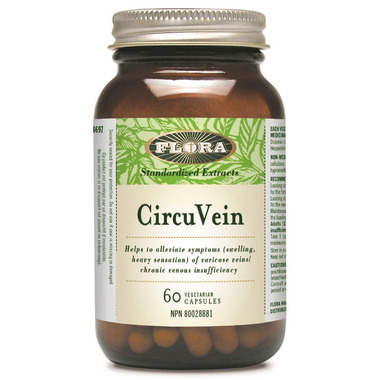 Flora's CircuVein is clinically proven to reduce the appearance of varicose and spider veins within just 2 months! Imagine your legs without varicose veins! The first product of its kind, CircuVein alleviates symptoms of varicose veins, and repairs and strengthens blood vessels. This clinically-proven formula also relieves symptoms of hemorrhoids. It is gluten-free, sustainable and vegan.
Features:


Alleviates symptoms of varicose veins
Repairs, strengthens and tones the blood vessels
Provides antioxidant support against further free radical damage
Reduces inflammation
Is clinically-proven, gluten-free, sustainable and vegan
Adult Dosage: 1 capsule twice daily with meals. Use for minimum 2 months
MEDICINAL INGREDIENTS:

Diosmin (Citrus sinensis fruit) 450 mg
Hesperidin (Citrus sinensis fruit) 50 mg

NON-MEDICINAL INGREDIENTS: Microcrystalline cellulose, silicon dioxide, magnesium stearate (plant-source), hypromellose.

Consult a health care practitioner prior to use if you are: 1) pregnant or breastfeeding 2) taking any prescription medications. Consult a health care practitioner if symptoms persist or worsen.
Vegetarian, Vegan, Gluten Free, Yeast Free, Dairy Free






Tamas:
more than a year ago
This product work well. Using it about two months and the varicose veins in my left leg visually gone. I can still feel some of these veins if I push harder but the cramps are definitely gone. This product is worth to try and also recommend proper dose of selenium along with Circuvein. Selenium generally aids fast cell recovery but is important not to overdose!!! Combination of two is definitely is a good alternative to laser treatments which is cost wise way over rated.
Page
1