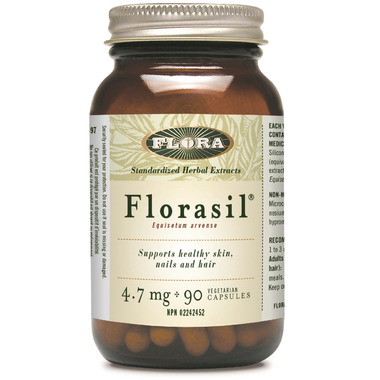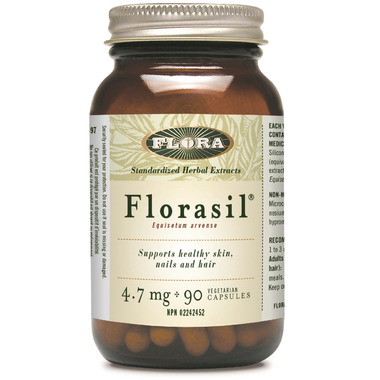 The silica in Florasil® helps to rejuvenate collagen and reverse some of the effects of aging by maintaining the elasticity and suppleness of the skin and by promoting the growth of strong, flexible nails and lustrous hair.
Features:
Promotes the growth of longer hair, stronger nails and smoother skin
Supports healthy skin, nails, hair, connective tissues, joints and bones
Helps maintain the elasticity and suppleness of the skin
Plant-based, derived from the spring horsetail plant, not quartz, rock or sand
The ultimate plant-based mineral makeover
Has over 30 trace minerals and flavonoids that are naturally occurring and aid absorption
Water soluble (orthosilicic–acid) form of silica
Proven safe and effective
Replenishes your natural collagen
Chemical-free water extraction
Comes in easy-to-digest 100% plant-source, cellulose capsules that dissolve rapidly
Gluten-free, non-GMO, plant-based, vegan
Adult Dosage
: 1-3 capsules daily with food
MEDICINAL INGREDIENTS:
Silicon 4.7 mg (equivalent to10 mg silica from extract of spring horsetail Equisetum arvense aerial parts)
NON-MEDICINAL INGREDIENTS
: Microcrystalline cellulose, corn syrup solids (non-GMO), magnesium stearate (plant-source) and hypromellose
Store in a cool, dry place. Keep out of reach of children.
Vegetarian, Vegan, Gluten Free, Yeast Free, Dairy Free



Chris:
more than a year ago
Florasil has been a great addition to my supplements. I didn't think it was working for the longest time, but then noticed how long and thick my normally short and non-existent eyelashes were. My nails also seem to grow a bit faster than they used too. I wouldn't say my nail are any stronger, they just seem to grow faster...but i'll take that.
Page
1