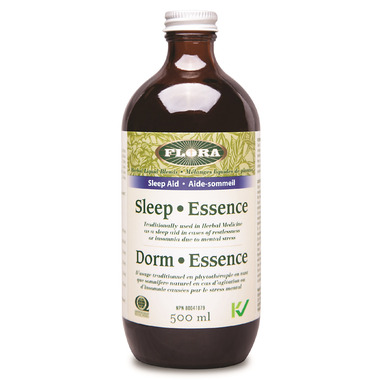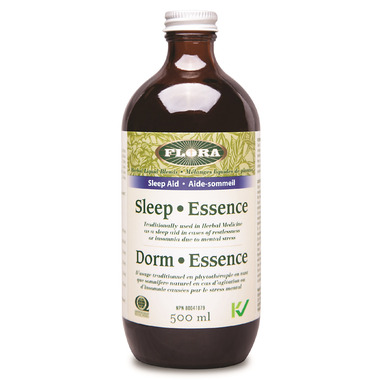 This liquid herbal sleep aid eases restlessness and promotes a restful sleep. Sleep•Essence is a powerful combination of organic chamomile flower, lemon balm, linden flower, passionflower, skullcap, and lavender designed to ease sleeplessness and insomnia. This liquid herbal blend is organic, non-GMO, gluten-free, kosher and vegan, not to mention delicious tasting.
Features:
Eases restlessness and insomnia
Promotes a restful sleep
Alleviates mental stress
Works as a calmative to help relieve nervousness
Contains chamomile flower, lemon balm, linden flower, passionflower, skullcap and lavender
Is all-natural, gluten-free and flavoured with organic apple juice
Is naturally coloured with hibiscus flower
Doesn't leave you feeling groggy or 'hung-over' the next morning
Adult Dosage:
4 tablespoons (60ml) 15-30 minutes before bedtime.
PER 15ML: MEDICINAL INGREDIENTS:
Chamomile flower* (Matricaria chamomilla) 1:149.7 100.2 mg
Lemon Balm aerial parts* (Melissa officinalis) 1:149.7 100.2 mg
Lavender flower* (Lavandula angustifolia) 1:199.2 75.3 mg
Linden flower * (Tilia x europaea) 1:199.2 75.3 mg
Passionflower aerial parts* (Passiflora incarnata) 1:199.2 75.3 mg
Skullcap aerial parts* (Scutellaria lateriflora) 1:199.2 75.3 mg
NON-MEDICINAL INGREDIENTS:
Filtered water, apple juice concentrate, hibiscus extract, natural passion fruit flavour. *organic
Consult a health care practitioner if sleeplessness persists continuously for more than 3 weeks (chronic insomnia). Consult a health care practitioner if symptoms persist or worsen. Consumption with alcohol, other medications or health products with sedative properties is not recommended. Do not use if you are pregnant or breastfeeding. Do not use if you are allergic to lavender or plants of the Asteraceae/Compositae/Daisy family. Hypersensitivity/allergy is known to occur, in which case discontinue use. Some people may experience drowsiness. Exercise caution if operating heavy machinery, driving a motor vehicle or involved in activities requiring mental alertness.
Vegetarian, Vegan, Gluten Free, Yeast Free, Dairy Free, Certified Organic, Kosher, Non GMO Verified








Stephanie:
more than a year ago
This is a good product if you want to relax, calm your body and mind before bed. It's definitely good for those mild cases of interrupted sleep pattern but not sure for about insomniacs. The taste is pleasant, mildly tart but sweet and it's easy to take/swallow. There are no side effects. You do wake up feeling rested and you don't have the jitters that you'd normally have if you took over the counter and you don't wake up drowsy like a sleeping pill side effect. I gave it a four because after I opened it, I left it out and it somehow fermented! It tasted like a mild pop when I tried it. So just refrigerate after opening. That might help.
Page
1