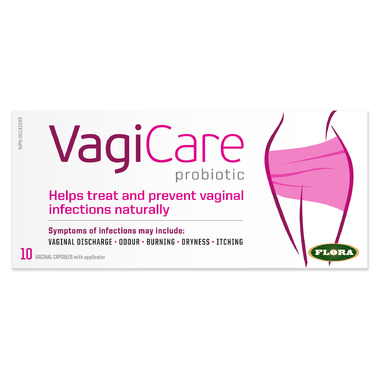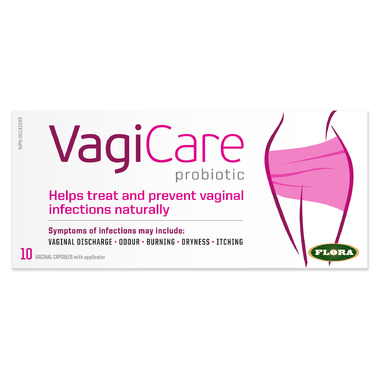 VagiCare is a probiotic that helps treat and prevent vaginal infections naturally. Adjunctive treatment for vaginal infections to restore and maintain normal vaginal flora.
Features:
VagiCare treats and prevents symptoms of vaginal discharge, odour, burning, dryness and itching
The probiotics in VagiCare are "good" bacteria that prevent "bad" bacteria from proliferating, and help in maintaining a healthy vaginal PH
Safe, natural and effective
Clinically Proven, Gluten Free, Non-GMO
Available in 10 vaginal suppositories with an applicator
Composition:
2 billion viable organisms per capsule:
Lactobacillus rhamnosus R0011: 1.6 billion CFU
Lactobacillus delbrueckii subsp bulgaricus, 50% of the
Yogurt culture R0094: 0.2 billion CFU
Streptococcus salivarius subsp thermophilus, 50% of the Yogurtculture R0094: 0.2 billion CFU.

Non-Medicinal Ingredients
: gelatin, lactose, magnesium
stearate, skim milk powder, sucrose, vitamin C.
Consult a physician if vaginal infection and/or symptoms persist beyond the full course of treatment.

Gluten Free, Yeast Free

Please be advised that Well.ca follows manufacturer guidelines for storing & shipping probiotics. This product will be shipped with an ice-pack to maintain product efficacy.



Vittoria:
a few months ago
Have been using this product for years. It really works and I love that it is a natural approach to yeast infections. Use this at the first inkling of an infection! Also, unlike the other commenter, I don't find this messy at all - but I've only used it at night. When used at night, you won't notice any leakage or residue coming out at all.
Page
1