Flourish Chocolate Protein Pancake Mix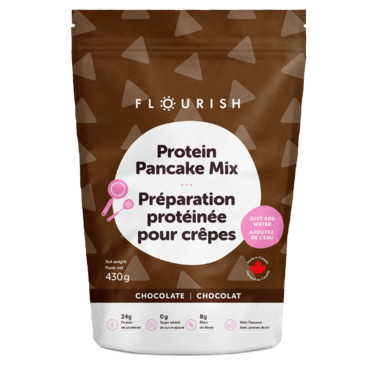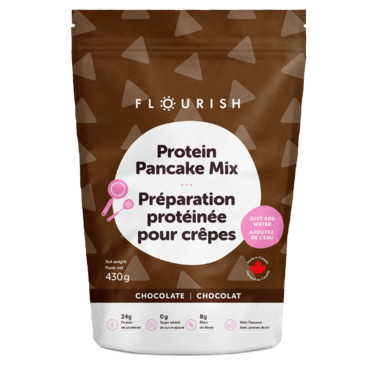 Flourish Chocolate Protein Pancake Mix
Flourish Chocolate Protein Pancake Mix has a deeply rich and aromatic flavour that brings back memories of warm brownies and fragrant dark chocolate. Robust cacao flavours are balanced by a touch of sweet chocolate Whey Protein Isolate, the foundation of every bag of Flourish Chocolate Protein Pancake Mix. Combine your batter with Raspberries or mashed Bananas for a healthy & tasty breakfast! (or lunch...or dinner...or second dinner)
Features:
24g of protein
0g of added sugar
8g of dietary fibre
Organic and Non-GMO ingredients



Directions:
1/2 Cup of Flourish mixed with 115mL of the liquid of your choice (Water, Milk, Almond Milk etc.).
Ingredients:
Non-GMO Whole Wheat Flour, Whey Protein ( whey protein, milk, natural chocolate flavours, non-GMO sunflower lecithin), Milled Flaxseed, Baking Powder, Cocoa Powder, Organic Cacao, Non-GMO Organic Erythritol, Kosher salt.
Contains: Milk. Manufactured in a facility that also processes: peanuts, soy, shellfish, tree nuts.