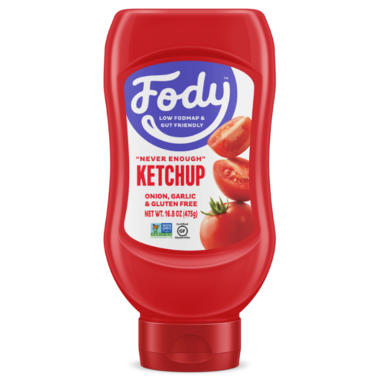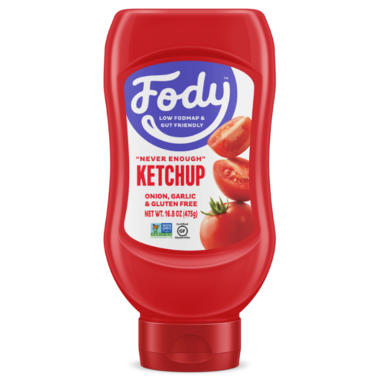 Ketchup lovers, REJOICE! Fody has combined tomatoes with the perfect blend of spices for a rich, tasty, low FODMAP ketchup. Enjoy Fody's Ketchup without garlic or onions on all of your favourite foods!
What are FODMAPS

According to Monash University, FODMAPs are a group of dietary sugars that are poorly absorbed in the small intestine. FODMAPs can trigger digestive issues including gas, bloating, distension, abdominal discomfort, pain, diarrhea and/or constipation by some people, especially those with Irritable Bowel Syndrome (IBS). FODMAP stands for: Fermentable Oligosaccharides Disaccharides Monosaccharides And Polyols.


What foods contains FODMAPS
There are 5 types of FODMAPs that exist in the food we eat. They are: fructose, lactose, fructans, galacto-oligosaccharides and sugar alcohols. Food can contain one or more types of FODMAPs.
Features:
Certified Low FODMAP
Non-GMO Project Verified
Certified Gluten Free
Vegan
Onion and Garlic Free
Ingredients: Water, Tomato Puree, Sugar, Vinegar, Modified Corn Starch,Salt, Spice Extractive.