Fountain The Super Green Molecule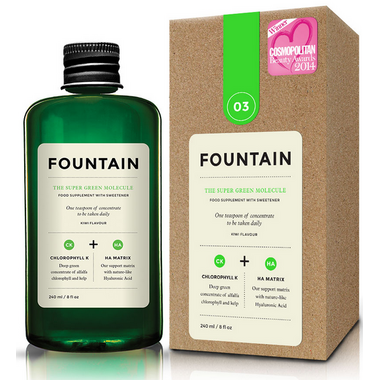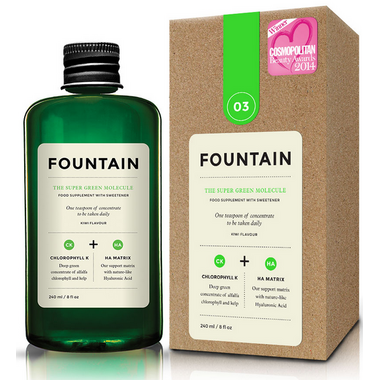 Fountain The Super Green Molecule
The Super Green Molecule is a concentrated beauty and lifestyle supplement of alfalfa chlorophyll, kelp and our Hyaluronic Acid matrix.
Features:
CHLOROPHYLL: Often referred to as the 'blood of plants', chlorophyll, is not only a plants' green lifeblood, it also has an innate ability to provide astonishing benefits within the human body. Abundant with minerals and vitamins, chlorophyll enhances overall energy levels and general well being. Each teaspoon serving provides 40mg of sodium copper chlorophyllin.
KELP: Another renown and fabulous green, kelp is celebrated for its ability to deliver internal tissue hydration, provide multiple nutrients and aid weight management. The unique kelp content found within The Super Green Molecule includes over 40 minerals, 16 amino acids and 11 vitamins. The inclusion of kelp enables the body to treat the above chlorophyll content as food, therefore allowing the body to absorb the full benefits with ease. Each teaspoon serving provides 25,000 µg of kelp.
HYALURONIC ACID: This formula is a vegan-friendly source of pure food-grade Hyaluronic Acid.
SAFE: This formula is free of artificial colours and flavours and is suitable for both adult men and women.
How to Use:
Take one teaspoon (5ml) per day mixed with your favourite juice or beverage. Do not take directly as the strong green colour may stain your tongue temporarily.

Warning:
Do not exceed the recommended daily dose. Food supplements should not be used as a substitute for a balanced diet and a healthy lifestyle. Not suitable for pregnant and breastfeeding women. Keep out of reach of children. Keep away from sunlight and heat. Do not freeze. Consume within 3 months once opened. Store in a cool, dry place. Shake lightly before consumption.