FreeStyle
FreeStyle Lite Blood Glucose Test Strips
For use with FreeStyle Lite Monitoring Systems 50 Count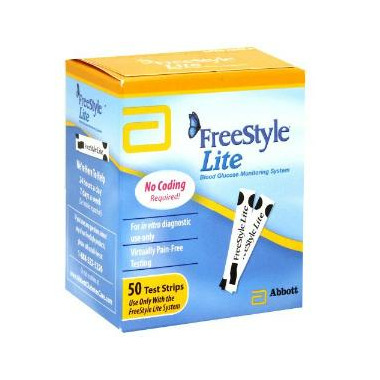 FreeStyle
FreeStyle Lite Blood Glucose Test Strips
For use with FreeStyle Lite Monitoring Systems
50 Count
---
Description
The Freestyle Lite Test Strips by Abbott are made to be used with the Freestyle Lite Blood Glucose Monitoring System.

* No Coding Required!
This makes it easier and more convenient to begin testing
* Alternate Site Testing:
You can test using your fingers, forearm, upper arm, hand, thigh, calf and palm. When testing for hypoglycemia (low blood sugar) or if you have hypoglycemia unawareness, it is recommended that you use your finger only.
For use with FreeStyle Lite Monitoring Systems
Shipping & Returns
Unfortunately, due to the nature of this item, we cannot accept any returns.
We are only able to ship this item to Canadian customers.
Click here for more information