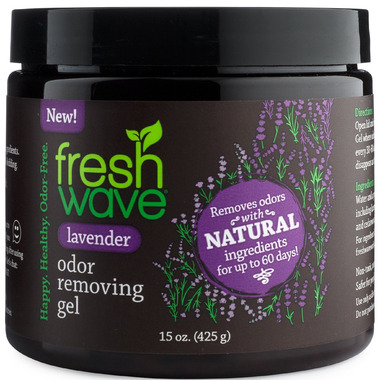 Description
Introducing Fresh Wave Lavender Odor Removing Gel: The same odor removing power of Fresh Wave, now infused with lavender oil. Known for its calming properties, the addition of lavender gives a boost to the trusted power of Fresh Wave. Now you can remove odors with lasting, relaxing lavender essence.

How to Use: Have a whole room that stinks? Or a mighty powerful litter box? You'll need the Fresh Wave Odour Removing Gel Lavender. Just open the lid and remove the seal. Replace slotted lid and place gel where odors are strongest. Sniff. Smile. Repeat every 30-60 days. (Hint: The gel will disappear as it evaporates.) Do not put gel down drain or disposal. Container is recyclable.

Ingredients: Water, 2-propenoic acid, potassium salt, polymer with 2-propernamide, Polyoxyethene sorbitan monooleate, Sorbitan monooleate, Lavender Oil, Lavandin Oil, Lime Oil, Pine needle oil, Anise seed oil, Clove oil, Cedarwood oil, Tocopherol alpha, Proprietary preservatives, Proprietary essential oils blend.

Highlights

Shipping & Returns