fridababy NoseFrida The SNOTSUCKER Nasal Aspirator
fridababy NoseFrida The SNOTSUCKER Nasal Aspirator
is rated out of
5
by
5
.
It's smart.
It's Swedish.
It's maybe a little strange.
It's doctor invented & recommended.
It's 100% hygienic due to the included filters (4).
It's fabulously reviewed (Rachel Ray, Parenting, & more).
It's a nasal aspirator that ACTUALLY WORKS!
It's NoseFrida The SNOTSUCKER.
NoseFrida is non-invasive – instead of going inside the nose like the bulb, it forms a seal with the outside of the baby's nostril (creating a vacuum). Parent-powered (mouth) suction is much stronger and more effective than the static suction of the bulb or battery-powered aspirators. NoseFrida is also easy to clean.
Clinical studies have proven that the hygiene filter prevents mucus and bacterial transfer from child to user. NoseFrida is safe to use on newborns and preemies. There is no risk of sucking too hard. NoseFrida is made of non-allergenic, latex-free, BPA-free, and phthalate-free polypropylene. It is manufactured in environmentally-conscious Sweden.
Instructions:
The disposable filter should be in place to prevent mucus or bacterial transfer.
Place the large tube against the child's nostril, creating a seal.
Use the red mouthpiece to suck out the snot. TIPS: Move the tube in a circular motion against the nostril – you will hear and see the mucus coming out of the nose. A few drops of saline solution in each nostril will help loosen thick mucus before using Nosefrida.
To clean, detach all of the pieces, and dispose of the filter. All pieces EXCEPT for the long thin tube should be cleaned with hot water and dish soap (they are also top-rack dishwasher safe).The long thin tube should be cleaned with a few drops of rubbing alcohol and shaken out to dry.
Includes 4 filters. fridababy NoseFrida Replacement Filters available for separate purchase.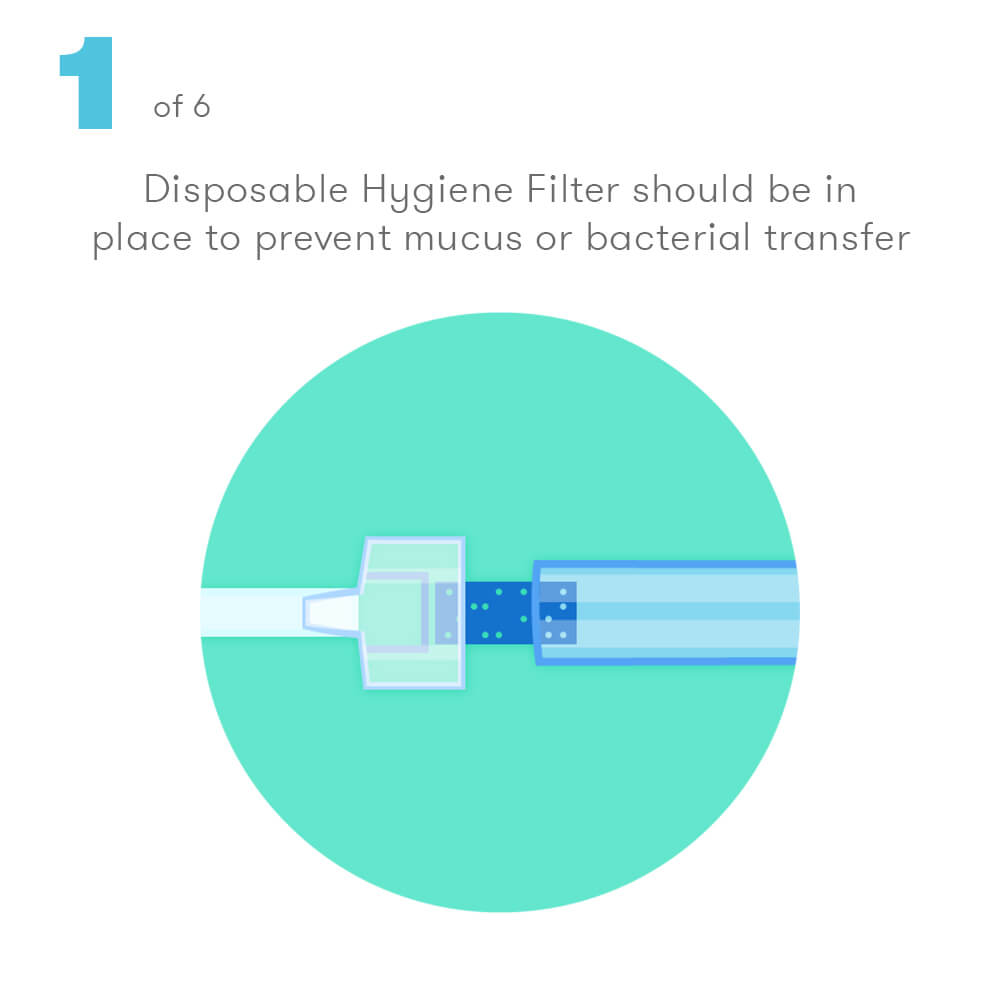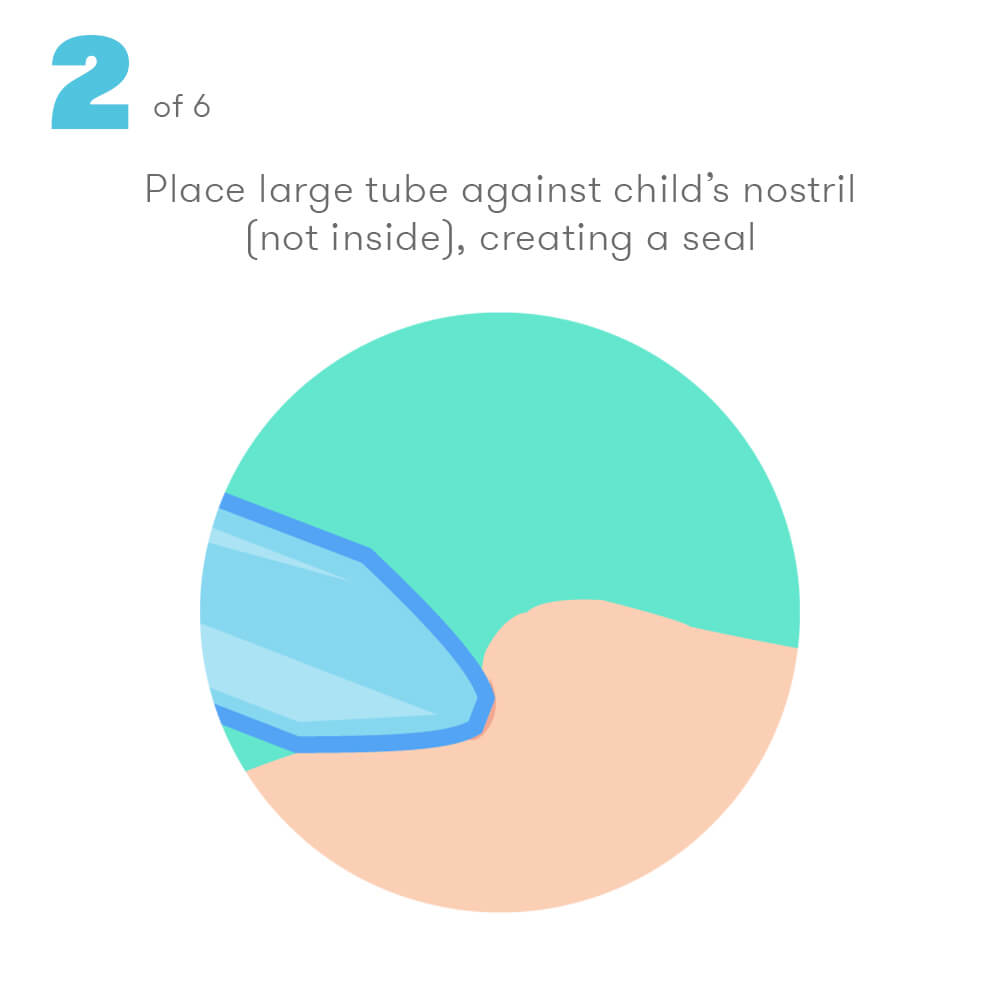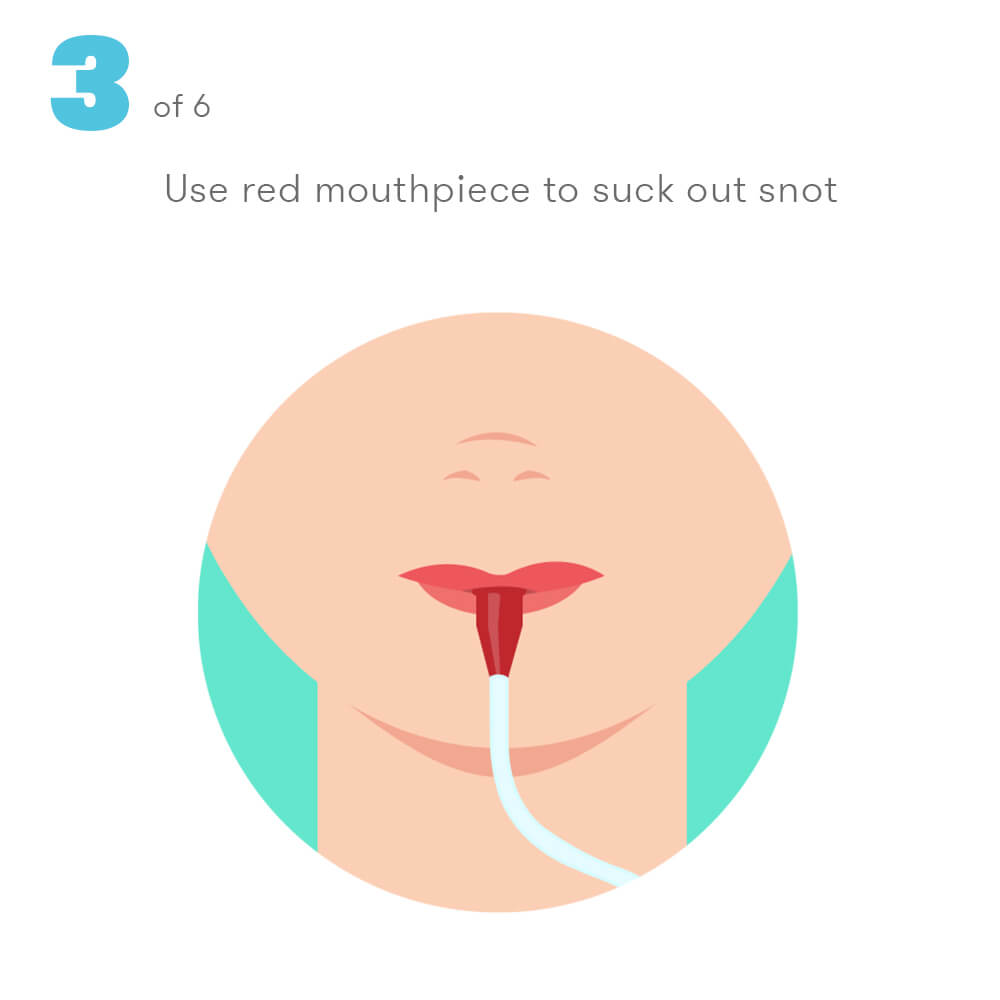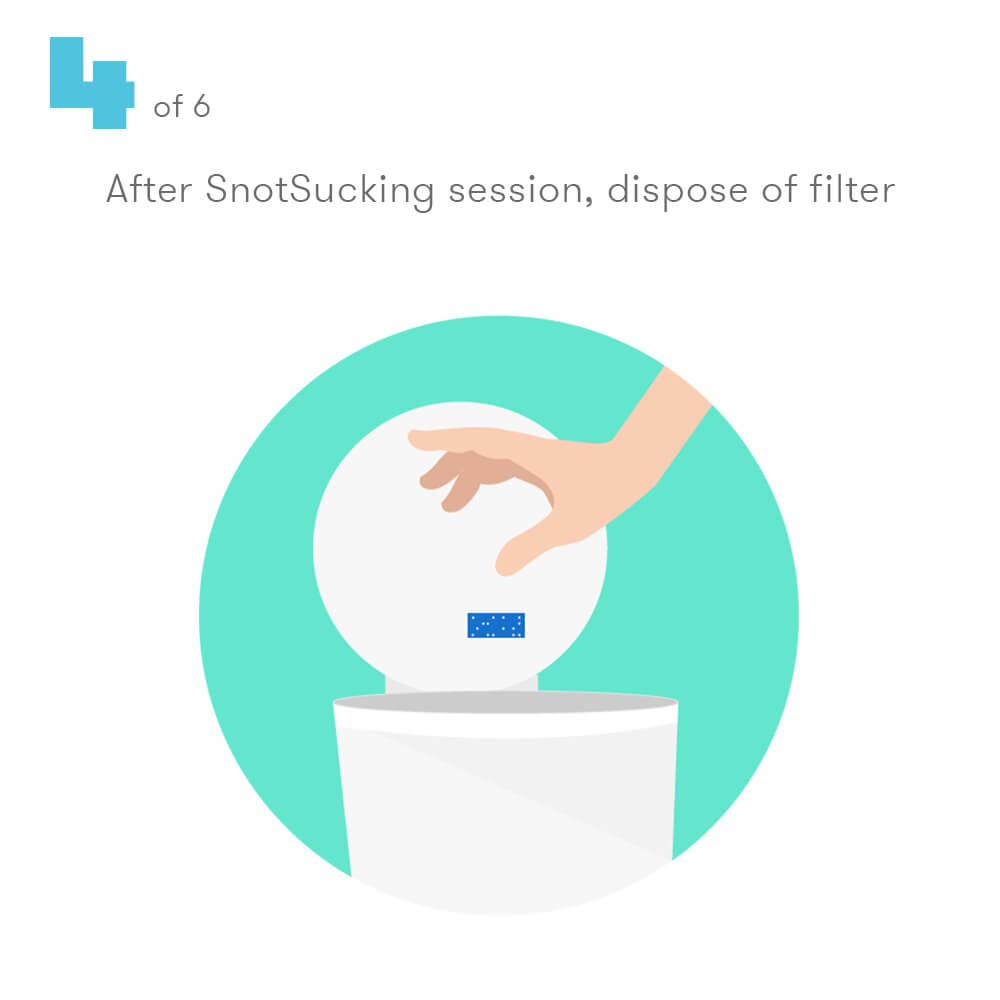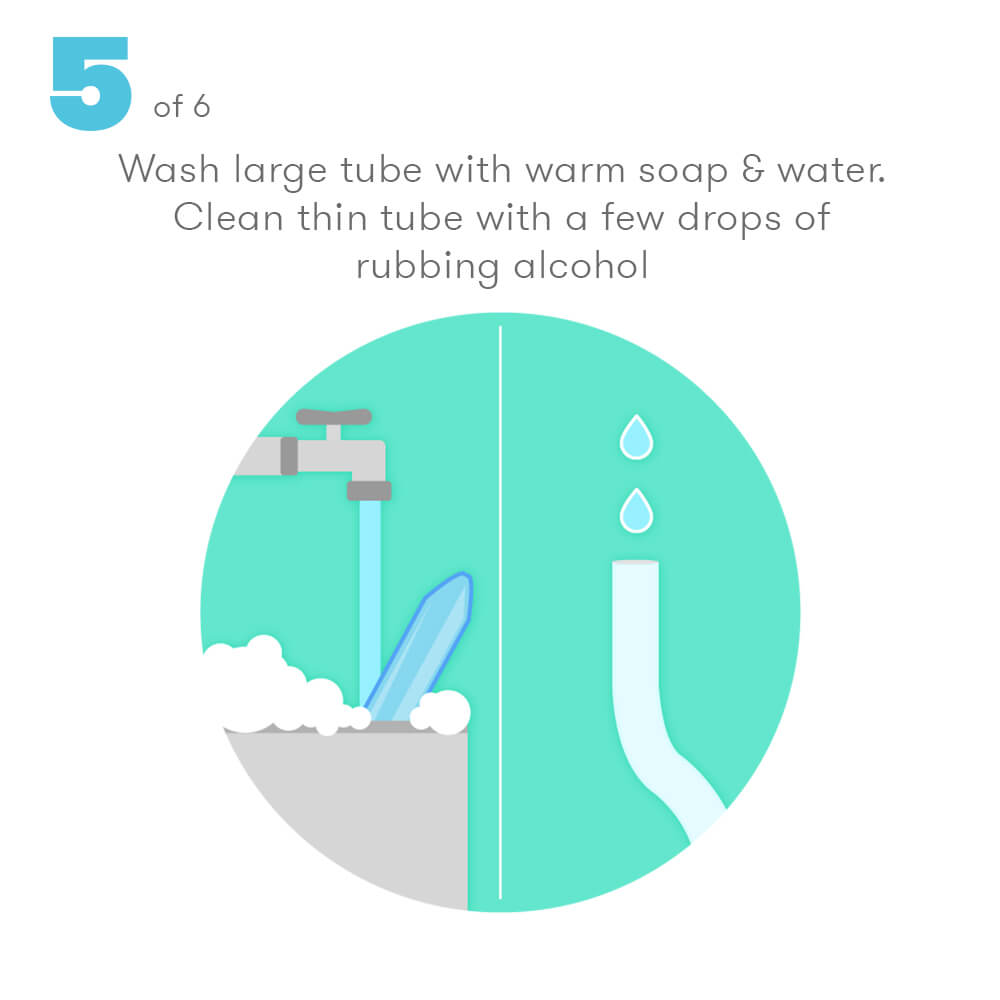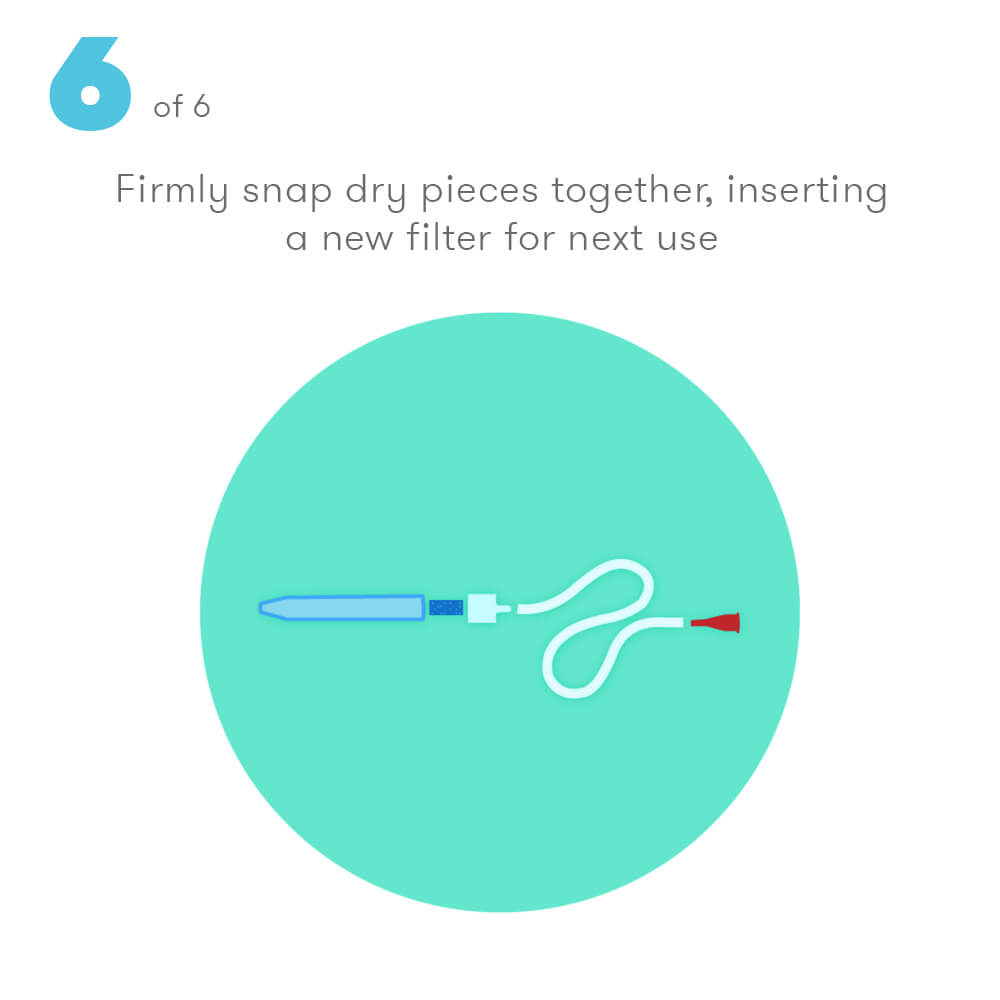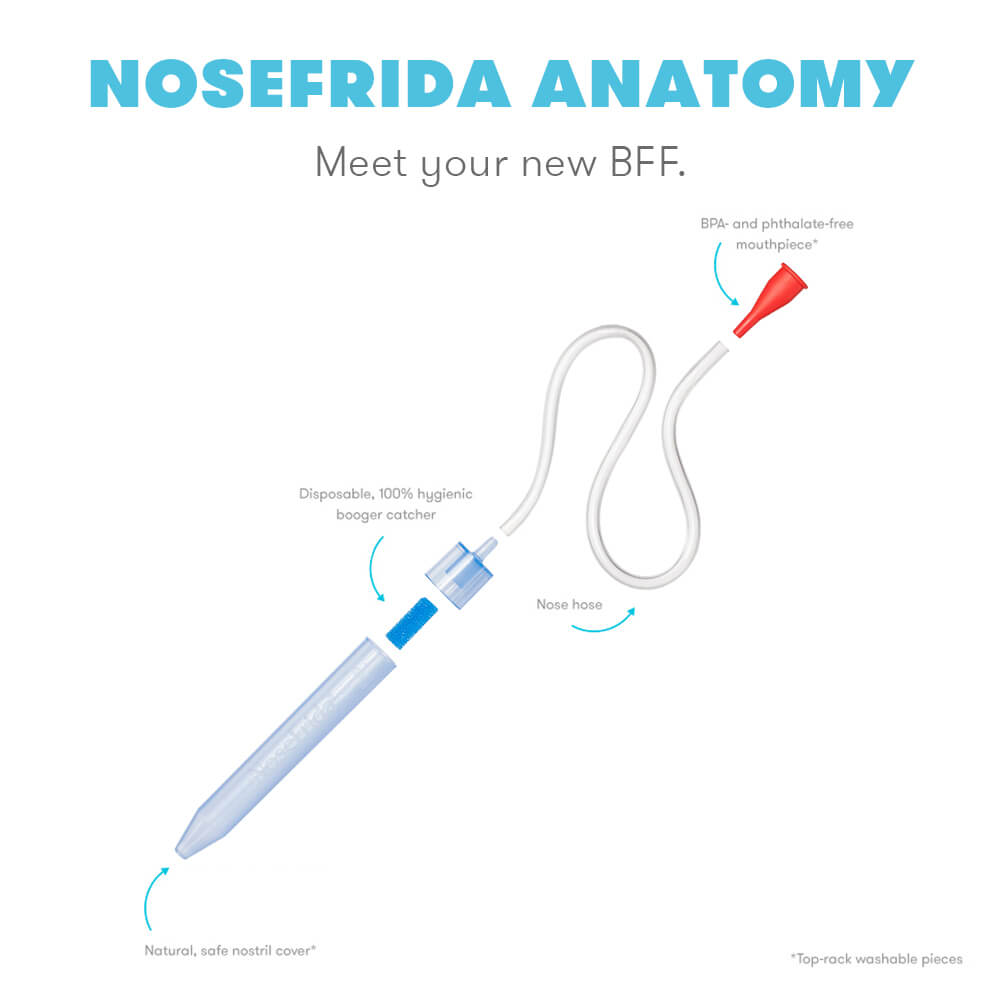 Similar frida mom Shop All
Rated

2

out of

5
by
Jk88
from
Faulty item
Works well in getting all the snot and boogers out however the pipe part falls off on both ends so easily that it makes it extremely annoying to use. Then the filter piece is extremely difficult to remove so cleaning is also really annoying. Not sure if I received a faulty
Date published: 2021-02-05
Rated

2

out of

5
by
AnnaTO
from
I wouldnt recommend
Some snot reached my mouth through the filter. Revolting and a good way to get sick from your baby. It also didnt do a great job of withdrawing mucus. Maybe I could have been more forceful in holding my toddler down but overall, I wasnt impressed with this device.
Date published: 2021-10-18
Rated

4

out of

5
by
Twinmom21
from
Magical!
We bought this when our twins started having some congestion. Our son was worse then our daughter and we used it before bed to make sure he (all of us) got a good night sleep - and we all did. I felt safe once he was breathing easily again
Date published: 2021-10-19
Rated

5

out of

5
by
itsbliss
from
Don't hesitate, just get it, it works!
My toddler got her first runny nose and I had to make a run to Rexall to get the snotsucker because the syringe bulb just wasn't cutting it. This was definitely worth it! It's easy to use and it really does help your kid breathe easier.
Date published: 2021-09-17
Rated

5

out of

5
by
Jenbenfenhen
from
Works!
It's true what they say. This is strange to explain to anyone but it works. My son isn't a fan when we need to use it but he also enjoys breathing that isn't laboured.
Date published: 2021-07-07