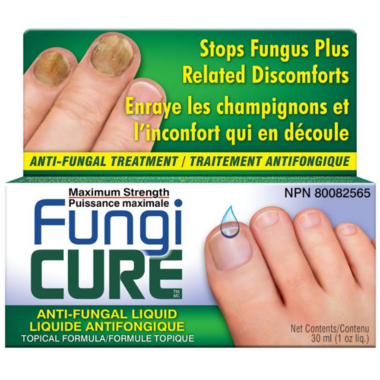 30 mL
Fungicure Anti-fungal Liquid
is rated out of
5
by
8
.
---
Description
Fungicure Anti-fungal Liquid works on exposed nail-bed surfaces where nails are missing, cracked open or otherwise breached, as well as around, adjacent to and under nail-tips wherever reachable with its applicator brush.


Contains an ingredient that kills 6 types of infection-causing fungus: T. Rubrum, E. Floccosum, T. Mentagrophytes, M. Canis, M. Gypseumand T. Tonsurans.
Active Ingredients:
contains: Undecylenic Acid (25%)
Inactive Ingredients:
Aloe Vera Gel, Fragrance, Hypromellose, Isopropyl Alcohol (70% v/v), Purified Water, Vitamin E
Shipping & Returns
Unfortunately, due to the nature of this item, we cannot accept any returns.
We are only able to ship this item to Canadian customers.
Click here for more information
Rated

4

out of

5
by
Tara
from
I have athlete's foot as well as toenail fungus in two of my toenails. This products works REALLY well for athlete's foot, and I would very highly recommend it for that. However, there is a warning on the bottle saying not to apply it to toenails. You can use it on exposed skin (if you have clipped back the nail), or under and around the nail, but not on the nail. I hope this information helps you decide if it is what you need :).
Date published: 2019-08-22
Rated

5

out of

5
by
alan
from
My fungus nail over 30 years grow back to normal upon applying this product for 2 months.
Date published: 2016-01-14
Rated

5

out of

5
by
Angela
from
Not just for blackened toenails, but also worked as an infection preventative for part of a toenail that came off due to an accident. Saved my toe and the nail grew back after a while in perfect condition, no issues in the 8 years since.
Date published: 2013-09-01
Rated

1

out of

5
by
Bill
from
The bottle lid broke (sheared off) on the first use. Trying to salvage it with some tape and a ziploc bag, but I'll lose a good amount to evaporation.
Date published: 2011-11-08
Rated

5

out of

5
by
Kathryn
from
Easy to use product. A little goes a long way and the fact that it is low odour is appealing.
Date published: 2014-06-03
Rated

5

out of

5
by
YUNZHI
from
I've had a bad case of Ringworm under my arm for about a month that is nearly gone after using this Fungi Care product. I started using it about 10 days ago and the Ringworm is roughly 80% gone. I was using Clotrimazole that didn't seem to be working, even after weeks of use. This product uses (Undecylenic Acid 25%) which obviously is more effective. If you have a Ringworm problem USE THIS!!! You won't be sorry.
Date published: 2016-11-16
Rated

5

out of

5
by
Lison
from
Works
Bought this for my husband and it works. You have to used it everyday. The liquid is more efficient than the lotion.
Date published: 2022-10-20
Rated

5

out of

5
by
doreen
from
very good,no dissapointment.just like it says, soothes and heals almost immediately.
Date published: 2011-08-08