Funky Fluff
Funky Fluff Bamboo Diaper System Thunderstruck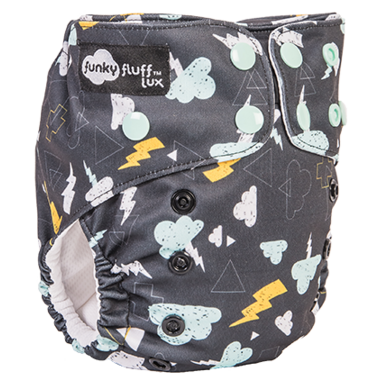 Funky Fluff
Funky Fluff Bamboo Diaper System Thunderstruck
Description
Funky Fluff 3-in-1 diaper is the original diaper designed to be used as an "All-in-1", "All-in-2" AND "pocket diaper" utilizing strategic snap-in configurations.
Stuff the soaker in the pocket and use it as a Pocket Diaper
Lay the soaker on top of the diaper and snap it in place to use it as an All-in-2
Snap the soaker completely inside the pocket to use it as an All-in-1
These refined LUX diaper shells include a slighlty larger middle (approx 1 cm), upgraded elastics and double PUL lined back snaps. Best of all, the Bamboo systems now come with a bamboo/terry soaker.
Features:
Slim design in the middle of diaper shell for a trimmer fit
2 x 4 rise settings adjust to fit newborn, small, medium and large sizes for babies from 7 – 35+ lbs
Double row of durable snaps allow separate waist and leg adjustment
Cross over snaps give a great newborn fit and also function as a tidy storage option for soiled diapers on the go.
Hip snaps help to prevent "wing droop"
Stretchy & soft around legs and waist
Extra wide pocket openings in the front and back make it easier to get the soaker in and out
Waterproof strip at the top edge of the diaper provides additional protection against leaks
An outer layer of breathable, waterproof polyurethane laminated polyester (PUL) keeps wetness contained
PUL reinforced snaps create a double layer of PUL on the front of the diaper shell for extra protection
Bamboo diaper lining consist of bamboo terry material made from 80% bamboo viscose and 20% polyester.
Highlights

Shipping & Returns