Garden of Life Dr. Formulated Probiotics Once Daily Women's
Shelf Stable
30 Veggie Capsules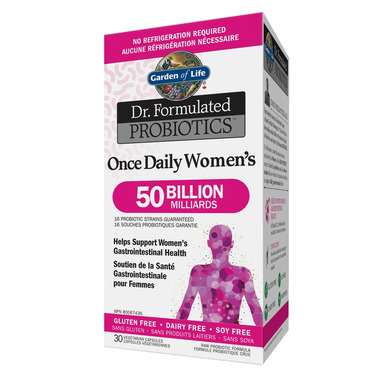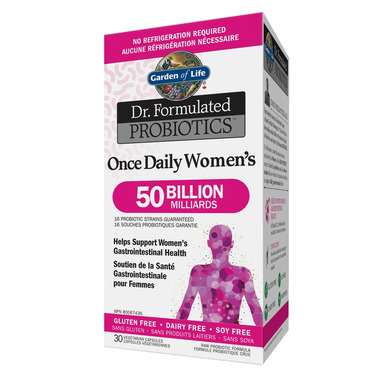 Garden of Life Dr. Formulated Probiotics Once Daily Women's
Shelf Stable
30 Veggie Capsules
Formulated by Dr. David Perlmutter, America's Brain-Health Expert and Expert in the Human Microbiome. The Garden of Life Dr. Formulated Probiotics Once Daily Women's are high potency Raw Probiotics with 50 Billion CFU and 16 Probiotic Strains.
Dr. Perlmutter created this unique formula exclusively for Women, with a high potency of beneficial probiotics made from diverse strains that are resistant to stomach acid and bile, to support daily gastrointestinal health.

Features:
50 Billion CFU
Helps Support Women's Gastrointestinal Health
16 Probiotic Strains Guaranteed
No refrigeration required
Gluten free, dairy free, soy free, vegetarian
Contains no carriers, fillers, artificial colours or flavours.
Directions for Women:
Take 1 capsule daily or as recommended by your healthcare practitioner. Take at least 2-3 hours before or after the use of antibiotics.
Ingredients:
Medicinal Ingredients (per capsule): Probiotic Blend for Women 50 Billion CFU: Lactobacillus acidophilus (La-14) 11 Billion CFU, Lactobacillus plantarum (Lp-115) 22 Billion CFU, Lactobacillus casei (Lc-11) 4 Billion CFU, Lactobacillus paracasei (Lpc-37) 3.2 Billion CFU, Lactobacillus delbrueckii subsp. bulgaricus (Lb-87) 0.1 Billion CFU, Lactobacillus brevis (Lbr-35) 0.5 Billion CFU, Lactobacillus reuteri (UALR-16) 0.3 Billion CFU, Lactobacillus salivarius (Ls-33) 0.8 Billion CFU, Lactobacillus fermentum (SBS-1) 0.3 Billion CFU, Lactobacillus gasseri (Lg-36) 0.3 Billion CFU, Lactobacillus rhamnosus (Lr-32) 0.3 Billion CFU, Bifidobacterium animalis subsp. lactis (BI-04) 6.7 Billion CFU, Bifidobacterium longum subsp. infantis (Bi-26) 0.1 Billion CFU, Bifidobacterium bifidum (Bb-06) 0.1 Billion CFU, Bifidobacterium breve (Bb-03) 0.4 Billion CFU, Bifidobacterium longum subsp. longum (BI-05) 0.1 Billion CFU. Non-Medicinal Ingredients (contains no carriers, fillers, artificial colors or flavors): Organic potato starch (tuber), organic acacia gum, non-GMO vegetable capsule (hypromellose).

CAUTION:
Do not use this product if you have an immune-compromised condition. Consult a healthcare practitioner prior to use if you have fever, vomiting, bloody diarrhoea or severe abdominal pain. If symptoms of digestive upset occur, worsen, or persist beyond 3 days, discontinue use and consult a healthcare practitioner.
Please be advised that Well.ca follows manufacturer guidelines for storing & shipping probiotics.


Maria:
about a year ago
Seem to be really good probiotics, I had no bloating or other side effects. On the opposite, those problems quickly improved once I started to take these. They also seem to work on mood. In fact they contain the reuteri strain which in mice is shown to be linked with autism. Mice lacking it show autistic traits.
Page
1