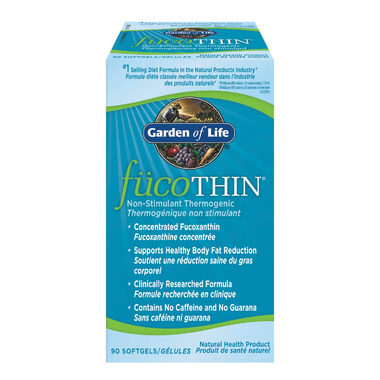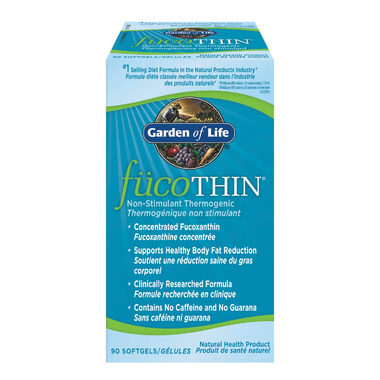 fücoTHIN is a proprietary blend of fucoxanthin, derived from seaweed and a virgin, cold-pressed pomegranate oil. The blend, called Xanthigen utilizes uniquely effective means for extracting fucoxanthin from seaweed and then blends it with the highest quality pomegranate oil in unique proportions in order to create a patent pending formula.
To be used in conjunction with a healthy diet and exercise plan to support weight loss and body fat reduction. fücoTHIN is a natural health product that is made with a proprietary concentration of fucoxanthin for a patent pending formula that is naturally thermogenic. Thermogenesis is the process by which the body increases its metabolic rate, requiring utilization of internal stores of energy such as fat.
Features & Benefits:
Clinically Researched Formula
Concentrated Fucoxanthin
Supports Healthy Body Fat Reduction
No Caffeine and no Guarana
Dairy free
Contains no artificial colours or preservatives
Medicinal Ingredients (per softgel):
Undaria pinnatifida/Laminaria japonica (brown seaweed) whole plant extract standardized to 0.82 mg
fucoxanthin 100 mg
Punica granatum (pomegranate) seed oil standardized to at least 70% punicic acid 100 mg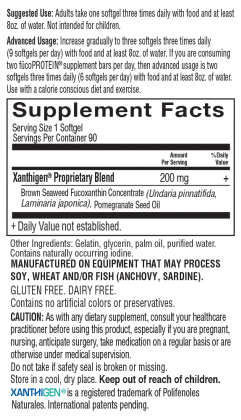 Annette:
about a year ago
I have just started this product a few weeks ago. So far it seems to be helping. However it does suggest using 2 bottles to truly see results. I would like to say that there is no side effects such as upset stomach, diarrhea and no after taste. I will try the product until I use the 3 bottles to see the results. I have a low thyroid and slow matabolisim so I will see if will work.
Page
1