Garden of Life MyKind Organics Vitamin D3 Organic Vanilla Spray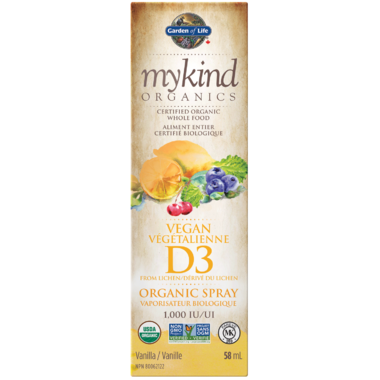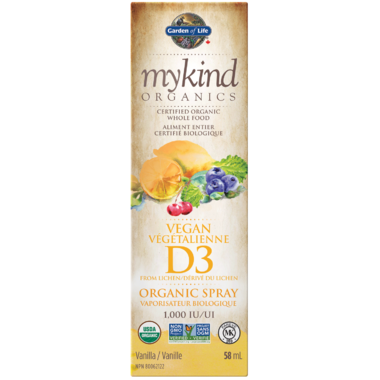 Garden of Life MyKind Organics Vitamin D3 Organic Vanilla Spray
Finally, a whole food vitamin D3 formula that's both Certified USDA Organic and Non-GMO Project Verified in a mouth-watering vanilla spray. As the only vitamin D3 registered with both the Vegan Society and Vegetarian Society, mykind Organics Vegan D3 offers a potent and active form of vitamin D (cholecalciferol) for the body—because that is what the body naturally produces after sun exposure. While many vegetarian vitamin D supplements are vitamin D2 (ergocalciferol), this one is vitamin D3. This great vitamin D supplement is for everyone, but vegans and vegetarians are particularly at high risk for coming up short on vitamin D, since some of the best sources of vitamin D—other than sunlight—come from animal products, which are typically not on the menu for most vegetarians and certainly not for vegans. Since Vitamin D3 is a fat-soluble vitamin, Vegan D3 also contains organic plant omegas—from organic pumpkin seed oil and organic cranberry seed oil.
Benefits:
Supports calcium absorption for healthy bones
Kosher-Made (Pareve—No Meat or Dairy)
Soy Free
Suggested Use:
Shake well. Take one spray daily or as recommended by your healthcare practitioner. Refrigerate after opening and consume within 60 days. Each Spray (0.46 mL). Servings Per Container Approximately 125.
Medicinal Ingredients (per spray):
Vitamin D3 (Cholecalciferol).......25 mcg/ 1000 IU, Pumpkin seed oil
(Cucurbita pepo - Seed)....... 402 mg, Providing:
Linoleic Acid 40% Oleic Acid 30%; Cranberry seed oil
(Vaccinium macrocarpon - Seed)........ 5 mg.
Non-Medicinal Ingredients:
Organic Sunflower Lecithin, Organic Rosemary Leaf Extract, Vitamin E (from sunflower), Organic Vanilla Flavor, Organic Rebaudioside A (Stevia Extract).







Diane:
a few months ago
I have used many types of vitamin D including tablets & sprays. This is by far the best Vit. D3 that I have ever found. For the longest time I could not find it in Canada even though it was made here. I first purchased it in the U.S. & found it worked better than a product I bought to boost my immune system. After several months this has become available on well.ca - I have not been able to find it in any of the health food stores that I go to & I tried many! It also tastes great - vanilla flavored. One spray is equal to 1,000 IU of Vit D3!
Page
1