Garden of Life Vitamin Code RAW ONE for Women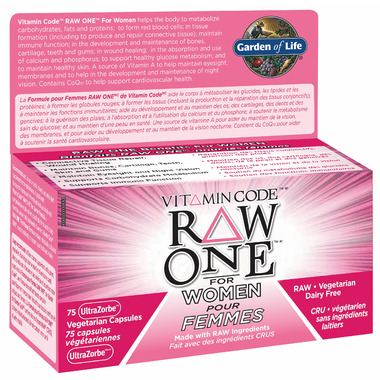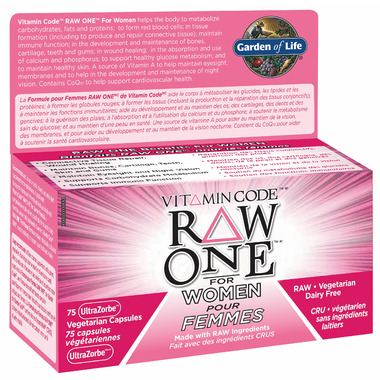 Garden of Life Vitamin Code RAW ONE for Women
Go beyond vitamins and minerals and feed your body with Vitamin Code RAW ONE For Women Formula, a comprehensive multi-nutrient specifically formulated to help meet the unique nutritional needs of women.
Vitamin Code RAW ONE For Women Formula contains individually cultivated RAW sourced nutrients, to support your health and vitality. Vitamin Code RAW ONE For Women helps the body:
Metabolize carbohydrates, fats and proteins
Form red blood cells
In tissue formation (including to produce and repair connective tissue)
Maintain immune function
In the development and maintenance of bones, cartilage, teeth and gums
In wound healing
In the absorption and use of calcium and phosphorus
Support healthy glucose metabolism
In the function of the thyroid gland
Maintain healthy skin
As a source of Vitamin A, it helps maintain eyesight, membranes and also helps in the development and maintenance of night vision. Calcium intake, when combined with sufficient vitamin D, a healthy diet, and regular exercise, may reduce the risk of developing osteoporosis. Finally, this multi contains CoQ10 to help support cardiovascular health.
Features & Benefits:
Unheated - not heated above 114°F/45.55°C
Untreated - no pesticides, chemicals or chemical preservatives used
Unadulterated - no binders and non-pasteurized
RAW, Vegetarian & Dairy Free
Medicinal Ingredients (per capsule):

Beta Carotene ... 3150 mcg
Vitamin C (from ascorbic acid) ... 60 mg
Vitamin D3 (from cholecalciferol) ... 20 mcg (800 IU)
Vitamin E (from d-alpha-tocopherol) ... 20 mg AT
Vitamin K1 (from phylloquinone) ... 80 mcg
Thiamine/Vitamin B1 (from thiamine hydrochloride) ... 1.5 mg
Riboflavin/Vitamin B2 ... 1.7 mg
Niacinamide/Vitamin B3 ... 20 mg
Vitamin B6 (from pyridoxine hydrochloride) ... 2 mg
Folate (from folic acid) ... 800 mcg
Vitamin B12 (from cyanocobalamin) ... 24 mcg
Biotin ... 150 mcg
Pantothenic Acid (from calcium-d-pantothenate) ... 10 mg
Iron (from iron carbonyl) ... 6 mg
Zinc (from zinc oxide) ... 1 mg
Selenium (from selenium HVP chelate) ... 75 mcg
Copper (from cupric sulfate) ... 1,500 mcg
Manganese (from manganese (II) sulfate) ... 1 mg
Chromium (from chromic chloride) ... 120 mcg
Molybdenum (from molybdenum HVP chelate) ... 18.8 mcg
Coenzyme Q10 ... 30 mg


Colleen:
more than a year ago
I was looking for a good quality vitamin and have used RAW products in the past, trusting the name alone I went out on a limb and bought these vitamins. Being very susceptible to colds and viruses I was shocked when a strong cold virus swept through every member of our household but me - the first time ever! I ordered another bottle today - that experience solidified my belief that this product works.
Page
1