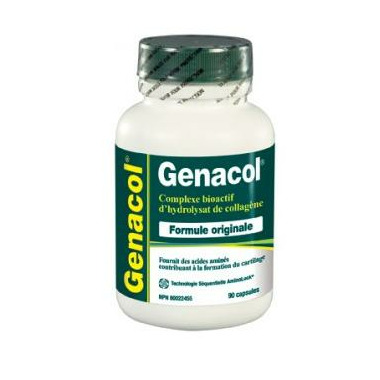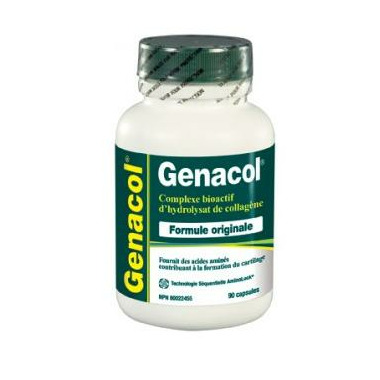 Genacol Original Formula is a bioactive complex of hydrolyzed collagen. Genacol is a safe substance that offers a supply of the necessary elements in order to nutritionally support the body's efforts in the formation of collagen. In addition, Genacol Original Formula is a supplement that helps in the formation of conjunctive tissue; as well as in the development and maintenance of cartilage. Genacol Original Formula shows outstanding results in the human body when used regularly.

Ingredients and Dosage:
Each capsule contains:

Medicinal ingredients
Hydrolyzed collagen from bovine . . . . . . . 400 mg

Non-medicinal ingredients: Gelatin, vegetable magnesium stearate.

GLUTEN FREE

Dosage (adult): Take 3 capsules daily at bedtime.

Risk Information: Contraindications: Do not use if you are pregnant or breastfeeding. Consult a healthcare practitioner before usage if you have liver disease or kidney disease or if you are following a low protein diet.

Jennifer:
more than a year ago
Started using this CANADIAN product almost one year ago, I was amazed by the immediate results, and I can feel the difference if I forget to take them at night. I use this product for osteoarthritis relief, by as a bonus, it makes my skin look amazing, I get compliments all the time.
marilyn:
more than a year ago
I have been using this product for two years now and I cannot be without it. Genacol helps my arthritis , skin looks better, and for some reason makes me sleep better. Will continue to use it forever. I take three capsules at bedtime. Love Well.ca. such an efficient company. Thank you!
Page
1