100% Pure Acai Juice
946 mL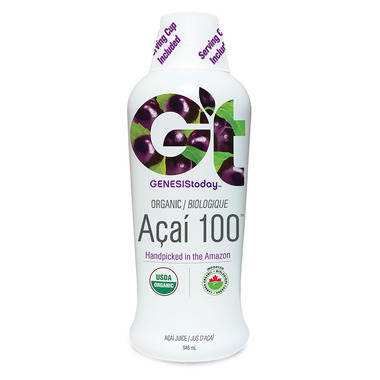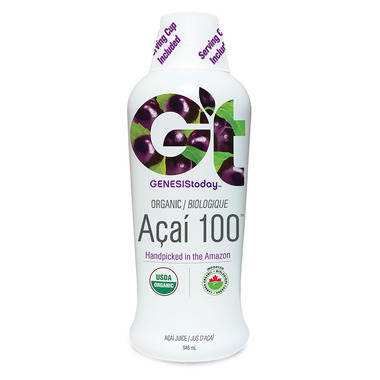 Genesis Today Acai 100
100% Pure Acai Juice
946 mL
- We're sorry, this product is no longer available!
- Shop for other products in: Wellness Juice

Aҫai 100 is created using Acai berries harvested by hand by the indigenous people of Caboclo from the tall Aҫai palms along the banks of the Amazon River. These dark purple berries are processed according to tradition by "rubbing" the fruit and outer skin off the inner seed, then blending the skin and fruit into a velvety, smooth juice. Genesis Today flash pasteurizes this juice to maintain the berry's properties. Our Acai 100 contains only 100% Acai berry juice and absolutely nothing else added. Try Genesis Today Aҫai 100 - made the Genesis Today way.

Genesis Today sustainably sources Acai berries from trusted, local growers who rely on the harvest to support their local economy and harvest the berry rather than cut the trees for timber. Your purchase of Genesis Today Aҫai berry products supports the people living in the Amazon Rainforest region. The seeds from the Aҫai berry are donated to locals for use in jewelry-making and even for fuel for fires for warmth. Genesis Today formulates and tests Aҫai 100 for quality, purity and taste before offering it to you.

Quality, care in sourcing and love for our planet – the Genesis Today way.