Genesis Today GenEssentials Total Nutrition
Multiple Vitamin & Mineral
946 mL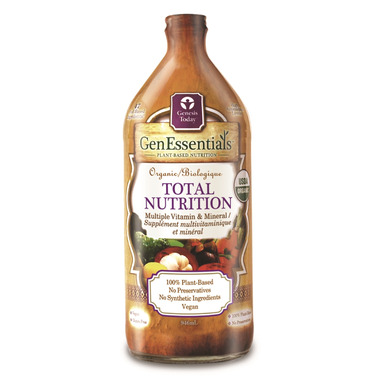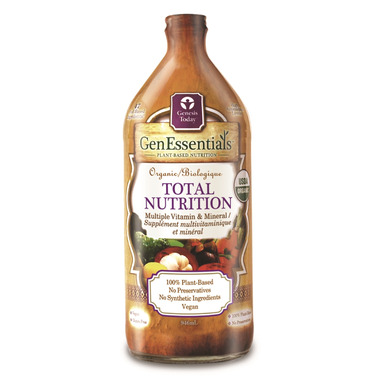 Genesis Today GenEssentials Total Nutrition
Multiple Vitamin & Mineral
946 mL
Genesis Today GenEssentials Organic Total Nutrition is the first liquid, plant-based, certified-organic, whole-food vitamin and mineral supplement that contains a unique fermented blend of superfoods, superfruits, amino acids, vitamins and minerals. As a whole-food source of vitamins, minerals, antioxidants, enzymes, and co-factors, Organic Total Nutrition supports the daily maintenance of optimal health when supplemented by a healthy diet. This formula was designed to synergize with the nutrients found in pure superfruit juices and fresh whole foods for an optimal supply of the richest nutrients found in the world.

Features & Benefits:
Supports Daily Nutrition
Supports Energy Levels
100% plant-based, organic vitamin and mineral blend
47 Food-based ingredients
Organic, Vegan and Gluten Free

Other Ingredients:
Reconstituted Organic Aloe Vera Juice, Organic Agave Nectar, Citric Acid, Natural Citrus Flavors, Chia Seed Powder, Mustard Greens Powder (for color), Organic Rebiana (stevia leaf extract), Xanthan Gum (natural stabilizer) and Sea Salt.

Janet:
a few months ago
I really dislike having to give this product such a low score but it makes me feel nauseous after taking it. I also got headaches and sudden hot flashes approximately 1 hour after taking this product and I have no idea why. I was so hoping that this product would work well for me seeing as I have an extremely sensitive immune system. Unfortunately, I have to return this product.
Tiffany:
more than a year ago
Very easy on the stomach. When taking the suggested dose, I feel I am getting the right amount of supplemented vitamins and nutrients. Doesn't taste great, but it grew on me. I could tell it was helping as the first few weeks of taking this product, it had detoxing effect. I would recommend this for anyone who prefers not to swallow a pill or has a hard time with digestion issues.
Page
1