100% Pure Goji Juice
946 mL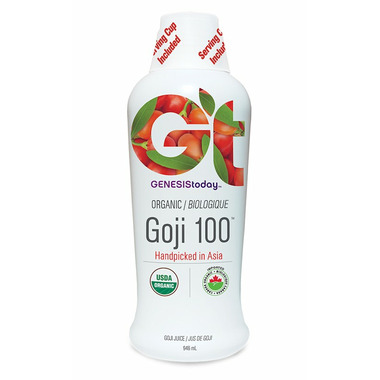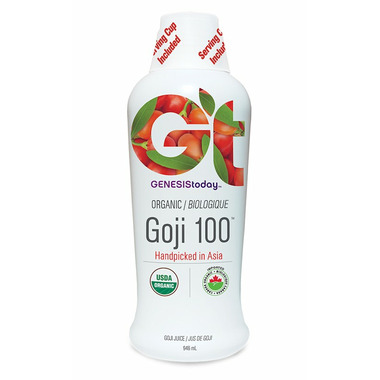 Genesis Today Goji 100
100% Pure Goji Juice
946 mL
- We're sorry, this product is no longer available!
- Shop for other products in: Wellness Juice

Goji 100 is a dark, distinctive Goji juice created solely from sun-drenched, ready-to-burst Goji berries. Goji berries are native to the Himalayan region of Asia, flourishing on tall shrubs with vine-like branches.

The Goji is a true treasure in many Asian cultures and festivals are held to celebrate the berry's annual harvest. Genesis Today's Goji 100 supports a positive mood and is fondly called the "Happy Berry." It's even rumoured that "one too many" berries results in spontaneous laughter!

Genesis Today sources the Goji berries for its Goji juice from trusted, local farmers in Southeast Asia. Goji berries grow on shrubs, and it takes about 2 years for the plant to bear fruit. Genesis Today's Goji berries are grown in soil that is certified organic and harvested with care by hand. Goji 100 is cooked in traditional Asian style to bring out the peak flavour of the berry. This juice is then flash pasteurized to maintain that flavour and the berry's healthy properties.

The goodness of Goji awaits.

Features & Benefits:

Supports Positive Mood
30,000 mg per serving of Goji
Flash pasteurized
Cooked in the Asian tradition
Ingredients: Organic goji (lycium barbarum) juice from concentrate, organic gogi powder, organic pineapple concentrate.