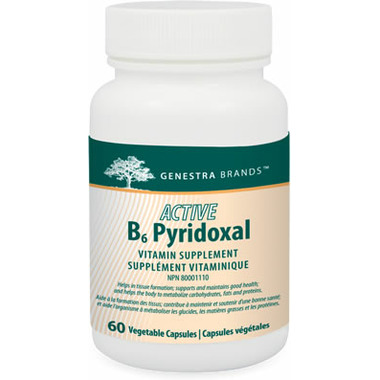 Description
Genestra Active B6 Pyridoxal is Vitamin B6 in its most active form.
Features:
Helps in tissue formation
Supports and maintains good health
Helps the body to metabolize carbohydrates fats, and proteins
Helps to prevent vitamin B6 deficiency
Provides 50 mg of vitamin B6 per capsule Active B6
About Pyridoxal:
Pyridoxal is a source of vitamin B6 in the form of pyridoxal-5-phosphate (PLP). As the most biologically active form of the vitamin, PLP helps to catalyze over 140 reactions.
PLP is an important co-factor in:
Fatty acid metabolism, including the production of important omega-6 polyunsaturated fatty acids
Carbohydrate metabolism, including the breakdown of glycogen into glucose
Amino acid metabolism, including neurotransmitter synthesis and the conversion of tryptophan into niacin.Vitamin B6 deficiency decreases niacin production and increases formation of the metabolite xanthurenic acid, which lowers insulin activity. Low levels of vitamin B6 also lead to increased synovial fluid between joints, which results in nerve compression.
Recommended Dosage: Adults (19 years and older): Take one capsule two times daily or as recommended by your healthcare practioner. Adolescents (9-18 years): Take one capsule daily or as recommended by your healthcare practioner.

Ingredients: Each Capsule contains:
Vitamin B6 (pyridoxal-5-phosphate) . 50 mg

Non-Medicinal Ingredients: Cellulose, hypromellose, silica
Caution: Keep out of the reach of children. Use only if safety seal is intact. Store in a cool, dry place.

Highlights

Shipping & Returns