Genestra
Genestra Biotone EFA Phytosterols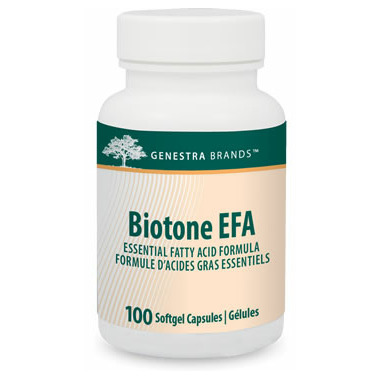 Genestra
Genestra Biotone EFA Phytosterols
Description
Genestra Biotone EFA is a combination of free plant sterols from Glycine max bean.
Features:
Helps lower blood total and LDL cholesterol
Provides 896 mg of free plant sterols per daily dose
Source of antioxidants and essential fatty acids for the maintenance of good health
Includes 10 IU of mixed tocopherol antioxidants per daily dose
Provides 1392 mg of linoleic acid and 144 mg of ALA per daily dose
Abut Biotone EFA:
Biotone EFA is an effective blend of lecithin-derived free plant sterols, essential fatty acids, and antioxidants that helps to maintain optimal health. Once in the free form, plant sterols affect cholesterol absorption in the intestine. Plant sterols displace dietary cholesterol in micelles, resulting in increased cholesterol excreted in the feces and decreased serum cholesterol levels.
In a randomized, placebo-controlled trial involving 66 hypercholesterolemic adults, daily supplementation with 0.3-0.5 g of plant sterol esters significantly decreased LDL cholesterol levels in a dose-dependent manner within four weeks.
Antioxidants further maintain good health by scavenging free radicals to prevent oxidative damage.
Recommended Dosage: Take 4 softgels 2 times daily with meals or as recommended by your healthcare practitioner.

Medicinal Ingredients: Per softgel:
Vitamin E (d-alpha tocopherol/mixed tocopherol concentrate) 0.84 mg AT/1.25 IU
Safflower (Carthamus tinctorius) Seed Oil 255 mg
Flaxseed (Linum usitatissinum) Oil 36 mg
Yielding:
Alpha-Linolenic Acid 18 mg
Total Linoleic Acid174 mg
Free Plant Sterols (from Glycine max bean)
(95% combined: beta-sitosterol, campesterol, stigmasterol) 112 mg
Soy Lecithin (from Glycine max bean) 20 mg
Policosanol (from Apis mellifera wax) 2.5 mg
Mixed Tocopherol Concentrate 4 mg
Yielding:
Gamma-Tocopherol 1.7 mg
Delta-Tocopherol 490 mcg

Non-Medicinal Ingredients: Capsule (bovine gelatin, glycerin, purified water), silica

Caution: Consult your healthcare practitioner prior to use if you are pregnant or breastfeeding, taking blood thinners or anti-platelet drugs, or have peptic ulcers. Keep out of the reach of children. Use only if safety seal is intact. Store in a cool, dry place.

Highlights

Features
Helps lower blood total and LDL cholesterol
Provides 896 mg of free plant sterols per daily dose
Source of antioxidants and essential fatty acids for the maintenance of good health
Includes 10 IU of mixed tocopherol antioxidants per daily dose
Provides 1392 mg of linoleic acid and 144 mg of ALA per daily dose
Ingredients
Medicinal Ingredients: Per softgel: Vitamin E (d-alpha tocopherol/mixed tocopherol concentrate) 0.84 mg AT/1.25 IU Safflower (Carthamus tinctorius) Seed Oil 255 mg Flaxseed (Linum usitatissinum) Oil 36 mg Yielding: Alpha-Linolenic Acid 18 mg Total Linoleic Acid174 mg Free Plant Sterols (from Glycine max bean) (95% combined: beta-sitosterol, campesterol, stigmasterol) 112 mg Soy Lecithin (from Glycine max bean) 20 mg Policosanol (from Apis mellifera wax) 2.5 mg Mixed Tocopherol Concentrate 4 mg Yielding: Gamma-Tocopherol 1.7 mg Delta-Tocopherol 490 mcg Non-Medicinal Ingredients: Capsule (bovine gelatin, glycerin, purified water), silica
Shipping & Returns