Genestra HMF Multi Strain 100 Probiotic Formula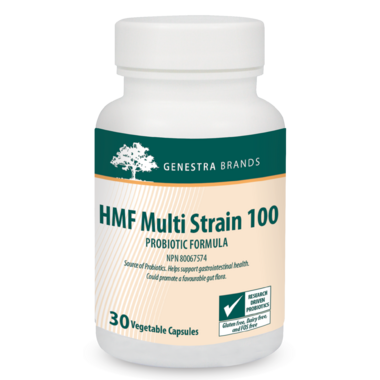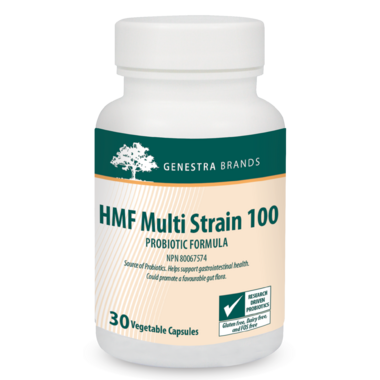 Genestra HMF Multi Strain 100 Probiotic Formula
Genestra HMF Multi Strain 100 Probiotic Formula offers 100 billion CFU from a combination of 14 probiotic strains. Included in this blend of proprietary, human-sourced probiotics are eight strains of Lactobacilli and six strains of Bifidobacteria to promote colonization in both the small and large intestines. These research-driven strains were selected based on their superior adherence to the gut lining, natural resistance to pH and bile acid, and ability to support gastrointestinal health and promote a favourable gut flora. Research has also found that supplementation with large numbers of a combination of probiotic strains helps maximize intestinal colonization and promote the growth of beneficial bacteria.
Features:
Concentrated 14-strain probiotic combination
Provides 100 billion CFU per convenient, once-daily capsule
Supports gastrointestinal health
Contains proprietary, human-sourced strains
Potency guaranteed through expiration
Genestra HMF probiotics (despite having keep refrigerated on box) maintain a high degree of stability at 25C for up to 20 days.

Ingredients:
Bifidobacterium animalis subsp. lactis (BL-04), Bifidobacterium animalis subsp. lactis (CUL 34), Bifidobacterium animalis subsp. lactis (CUL-62), Bifidobacterium animalis subsp. lactis (HN019), Bifidobacterium bifidum (CUL 20), Bifidobacterium breve (CUL-74), Lactobacillus acidophilus (CUL-21), Lactobacillus acidophilus (CUL-60), Lactobacillus acidophilus (NCFM®), Lactobacillus casei (CUL-06), Lactobacillus gasseri (CUL-09), Lactobacillus paracasei (CUL 08), Lactobacillus plantarum (CUL-66), Lactobacillus salivarius (CUL 61)
Please be advised that Well.ca follows manufacturer guidelines for storing & shipping probiotics. This product will be shipped with an ice-pack to maintain product efficacy.