Genestra
Genestra Organic Flax Oil Capsules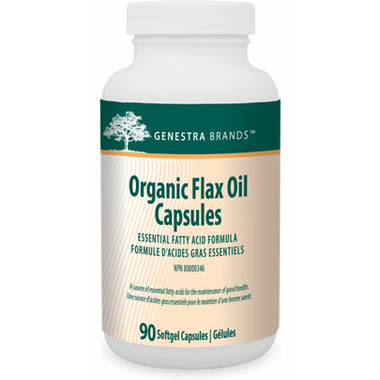 Genestra
Genestra Organic Flax Oil Capsules
Description
Genestra Organic Flax Oil Capsules are an Omega-3 rich fatty acid formula for optimal health.

Features:
Provides 1100 mg of ALA per daily dose
Includes 300 mg of LA per daily dose
Flax is one of the greatest plant sources of alpha-linolenic acid (ALA), an omega-3 fatty acid, and also contains linolenic acid (LA), an omega-6 fatty acid.
ALA is metabolized to EPA and DHA by elongase and desaturase enzymes. As these enzymes also compete to metabolize LA through elongation and desaturation reactions, an intake ratio of LA to ALA that is less than 4:1 best allows for the conversion of ALA into long chain omega-3 fatty acids.
Daily supplementation with flaxseed oil for over eight weeks significantly increased the levels of EPA and DPA, a DHA precursor and likely storage form of EPA, in both the erythrocyte membranes and plasma of adults. Fatty acids are also necessary for the proper structure and function of the skin, including the protection against environmental factors and the loss of electrolytes and water.
Decreased levels of these fatty acids have been associated with impaired epithelial cell function, including the loss of moisture in the skin. ALA further contributes to maintaining optimal health through its role in maintaining platelet and endothelial cell function. ALA is most bioavailable in flax oil when compared to milled or whole flax seeds.
Recommended Dosage: (Adults) Take one capsule two times daily with meals, or as recommended by your healthcare practitioner.

Medicinal Ingredients: Each Softgel Contains:
Organic Flax (Linum usitatissimum) Seed Oil 1000 mg
Yielding
ALA (Alpha-Linolenic Acid) 550 mg
LA (Linoleic Acid) 150 mg
OA (Oleic Acid) 160 mg

Non-Medicinal Ingredients: Bovine gelatin, glycerin, purified water

Caution: If you are taking blood thinners or if you have a bleeding disorder, consult your healthcare practitioner prior to use. Guaranteed to contain no added wheat, starch, yeast, gluten, corn, soy, sodium, sugar, artificial colouring or flavouring or dairy products. Quality Assurance: Safety-sealed for your protection and for product freshness. Do not use if outer seal is missing or broken. Store in a cool, dry place.

Highlights

Ingredients
Medicinal Ingredients: Each Softgel Contains: Organic Flax (Linum usitatissimum) Seed Oil 1000 mg Yielding ALA (Alpha-Linolenic Acid) 550 mg LA (Linoleic Acid) 150 mg OA (Oleic Acid) 160 mg Non-Medicinal Ingredients: Bovine gelatin, glycerin, purified water
Shipping & Returns