Genuine Health
Genuine Health Vegan Proteins+ Powder Large Pack Natural Chocolate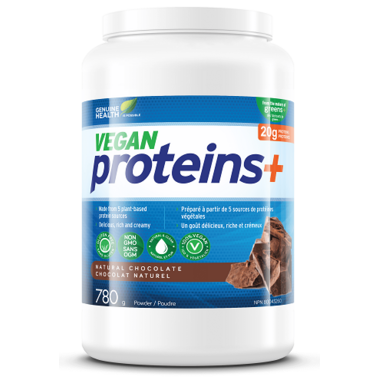 Genuine Health
Genuine Health Vegan Proteins+ Powder Large Pack Natural Chocolate
Description
Genuine Health Vegan Proteins+ Powder allows you to enjoy a superior source of all-natural vegetarian protein! With Vegan proteins+, you get a comprehensive formula containing the richest source of vegetarian proteins including non-GMO pea, sprouted brown rice, alfalfa, organic hemp and NEW potato protein isolate. Just one serving provides all 8 essential amino acids, 8 vitamins, 13 minerals and 20 grams of dietary protein for a leaner, healthier body.
Benefits of taking Vegan proteins+ include:
Provides a satiating, long lasting protein
Helps build lean muscle and boost metabolism
Supports the immune system
Helps balance blood sugar levels
Whether you are vegetarian or not, enjoy Vegan proteins+ daily as a mid-day snack, pre or post exercise, to boost your health and energy – naturally.
About Potato Protein Isolate:
Newest and most innovative vegetarian protein on the market
Has the highest percentage of amino acids compared to any other vegetarian protein
Has the highest level of Branched Chain Amino Acids (BCAAs) to support muscle synthesis and counter fatigue
Digests easily and rapidly
Potatoes are non-GMO
Medicinal Ingredients: Yellow pea protein isolate, brown whole grain protein concentrate, potato tuber protein isolate, alfalfa whole young plant juice protein, hemp seed protein

Non-medicinal ingredients:
Natural cocoa flavour, natural chocolate flavour blend, stevia
Recommended Adult Dosage:
Mix 1 scoop (32.6 g) in 1 cup (250 ml) of your beverage of choice. Take one serving daily, away from medications. For prolonged use consult a health care practitioner.
Caution:
If you have a medical condition, impaired liver or kidney function or are taking prescription medicines, consult a health care practitioner prior to use. If you are following a low-protein diet, consult a health care practitioner. If you are pregnant or breast feeding, do not use.

Vegan proteins+: contains no gluten, wheat, animal products, artificial colours, flavours or sweeteners.
Highlights

Ingredients
Yellow pea protein isolate, brown whole grain protein concentrate, potato tuber protein isolate, alfalfa whole young plant juice protein, hemp seed protein Non-medicinal ingredients: Natural cocoa flavour, natural chocolate flavour blend, stevia
Shipping & Returns