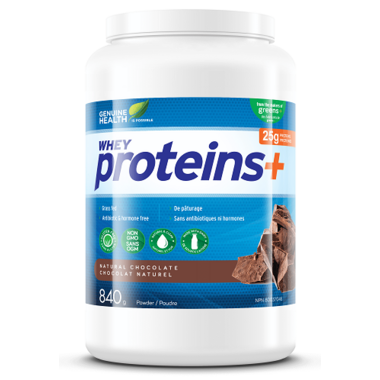 Description
Achieve a leaner, healthier body – naturally. Protein is vitally important for overall health, including easier weight loss, increased metabolism and lean muscle. Containing 100% whey protein isolate, proteins+ provides a pure and antibiotic-free whey protein.

Suggested Dosage: Mix 1 scoop (31 g) into 1 cup (250 mL) of your beverage of choice. Take one serving daily, away from medications. For prolonged use consult a health care practitioner.

Caution: Consult a health care practitioner before use if you have diabetes, impaired liver or kidney function, gastrointestinal lesions/ulcers, are taking anticoagulants or anti-inflammatory agents, are having surgery or have an allergy to latex or fruit. Discontinue use if you experience hypersensitivity/allergy, headaches, heartburn or bloating. May cause mild gastrointestinal disturbances. Do not use if allergic to milk or milk products.

Highlights

Features
Increases metabolism
Decreases fat storage
Increases lean muscle
Supports immunity
Mixes easily!
Ingredients
Whey Protein Isolate, Digestive Enzyme Blend, Protease (Bacillus Subtilis), Papain (Carica Papaya Fruit), Alpha-Amylase (Asperigillus Flavus Var. Oryzae), Lactase (Asperigillus Flavus Var. Oryzae), Lipase (Aspergillus Niger), Lecithin, Stevia, Lecithin (Soybean), Natural Flavours, Alkalized Cocoa Powder, Stevia Rebaudiana Leaf Extract, Lecithin (Soybean).
Shipping & Returns
Unfortunately, due to the nature of this item, we cannot accept any returns.
We are only able to ship this item to Canadian customers.
Click here for more information