Geratherm
Geratherm Basal Digital Thermometer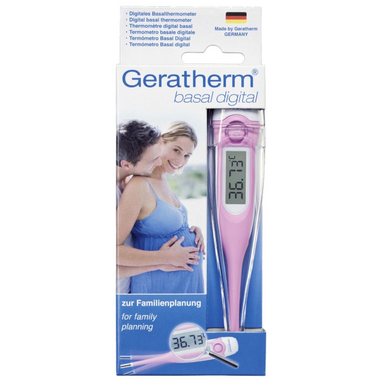 Geratherm
Geratherm Basal Digital Thermometer
Description
Made of a flexible and durable plastic, this digital basal thermometer is one of the most accurate in the world. It has a large display and measures to the hundredth of a degree. When it comes to measuring your basal temperature, there is no better way! This may also be used as a regular thermometer with superior accuracy.
Features:
Large 4-digit display
Backlit display for convenient reading even in the dark
Flexible tip – ideal for oral measurement
High accuracy: +/- 0.10 °C
10 memories
100 % waterproof
Temperature range: 32.00 °C – 43.99 °C
Switches between °C and °F
Includes temperature chart for tracking and analysis
Cautions: The basal digital is expressly not a contraceptive. It is only possible to measure temperatures that are above the ambient temperature. Hold the thermometer out of the reach of children. Small parts can detach from the thermometer. These can be swallowed by children or cause suffocation by inhalation of the parts. Do not cook, bite, bend, drop or take apart the thermometer. Never open the thermometer except to replace the batteries. Avoid temperature measurements within 30 minutes after exercise, after bathing or eating. Never expose the thermometer in use, in storage or in transit to direct sunlight, moisture, or extreme temperatures; protect the thermometer from dirt.
Prior to use, let the thermometer allow to warm to room temperature when it was stored at substantially lower temperatures. The possibility of allergic reactions and / or skin irritation cannot be completely excluded. Please be careful while measuring to avoid injury. The use of the thermometer is not a substitute for a doctor's visit. Clean and disinfect the thermometer before and after every use.

Shipping & Returns