Geratherm
Geratherm Early Detect Pregnancy Test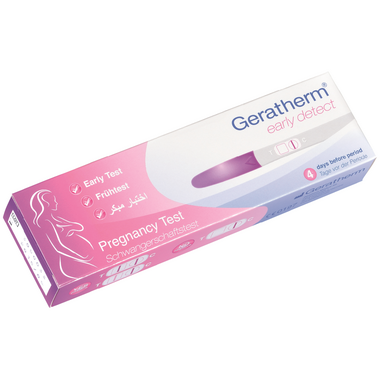 Geratherm
Geratherm Early Detect Pregnancy Test
Description
Geratherm Early detect is a new pregnancy test on the market that is 99% accurate and detects up to 4 days before your period. It is one of the MOST SENSITIVE tests on the market detecting hCG at 10 IU/L in urine. Different to other pregnancy tests, it allows for accurate results in a clean and more hygienic way with its extra long test strip.
Features:
Extra large test zone
Detects up to 4 days before period
Easy-to-read test result
Quick – read off the results in approximately 3 minutes
Detects hCG in urine at a concentration of 10 IU/L
Precautions:
Please read all the information in this package insert before performing the test. Do not use after the expiration date printed on the foil pouch. Store in a dry place at 2º - 30ºC (or 36º - 86ºF). Do not freeze. Do not use if pouch is torn or damaged. Please keep out of reach of children. For in vitro diagnostic use. For external use only. Open the foil pouch just before running the test.
Shipping & Returns