Gerber Baby Cereal - Rice & Banana (Add Water)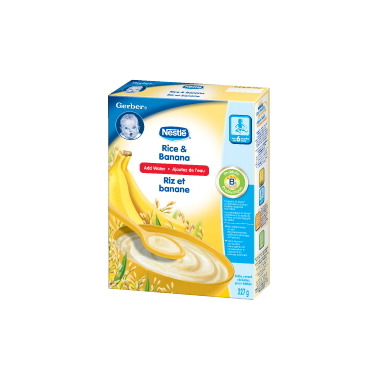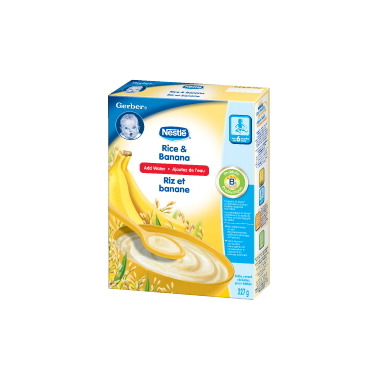 Gerber Baby Cereal - Rice & Banana (Add Water)
Celebrate another first with baby – starting solid foods – with Gerber Baby Cereal. Gerber Baby Cereal gives your baby more wholesome goodness than ever before because it's the first and only with probiotic B. lactis, a probiotic that contributes to healthy digestive tract flora. It's excellent nutrition along with great taste, texture and consistency that make the ideal baby cereal.
Features:

Naturally sweet with banana, so there is no added sugar
Excellent consistency and won't thicken as it cools - making it the perfect food for little spoons - and little smiles
It's easy to prepare and easy to serve because we've already added specially adapted milk to meet your baby's nutritional and developmental needs - all you have to do is add water
With 14 essential nutrients, including 100% of the daily value for iron in every serving - it's easy to love
Ingredients: RICE FLOUR, DRY SKIM MILK, DEHYDRATED BANANA, PALM OLEIN, POTATO MALTODEXTRIN, CANOLA OIL, COCONUT OIL, SUNFLOWER OIL, MINERAL AND VITAMINS (FERRIC PYROPHOSPHATE, NICOTINAMIDE, THIAMINE MONONITRATE, RIBOFLAVIN), BIFIDOBACTERIUM LACTIS.

*With 1 billion B. lactis per 28 g serving.