Gerber Baby Cereal - Wheat, Honey & Flakes (Add Water)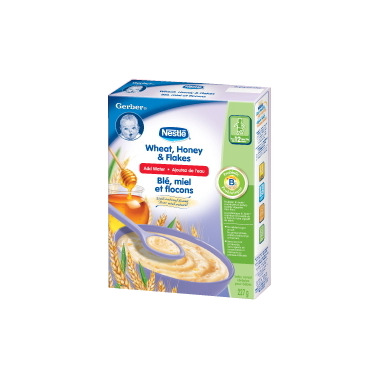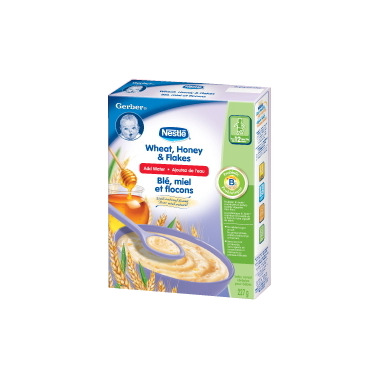 Gerber Baby Cereal - Wheat, Honey & Flakes (Add Water)
Celebrate another first with baby – starting solid foods – with Gerber Baby Cereal. Gerber Baby Cereal gives your baby more wholesome goodness than ever before because it's the first and only with probiotic B. lactis, a probiotic that contributes to healthy digestive tract flora. At around one year, your baby is becoming a toddler and is getting more adventurous than ever - both with food and in personality!

Features:
Gives your baby the texture of tiny flakes and a new flavour of added honey to explore
All you have to do is add water
Contains 14 essential nutrients, including 100% of the recommended daily value for iron
Ingredients: WHEAT FLOUR, DRY SKIM MILK, POTATO MALTODEXTRIN, CORN FLAKES, PALM OLEIN, HONEY, CANOLA OIL, COCONUT OIL, SUNFLOWER OIL, MINERAL AND VITAMINS (FERROUS FUMARATE, NICOTINAMIDE, THIAMINE MONONITRATE, RIBOFLAVIN), BIFIDOBACTERIUM LACTIS.

*With 1 billion B. lactis per 28 g serving.