Gerber Baby Cereal - Wheat, Yogurt, Apple, Pear & Banana (Add Water)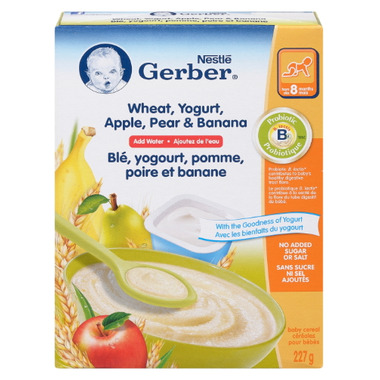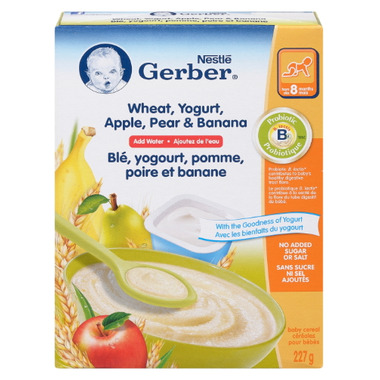 Gerber Baby Cereal - Wheat, Yogurt, Apple, Pear & Banana (Add Water)
The First and Only Baby Cereal with Probiotics. Probiotic B. lactis – gives spoonful after spoonful of B. lactis, a probiotic that contributes to baby's healthy digestive tract flora*.
NESTLÉ GERBER Baby Cereal – Wheat, Yogurt, Apple, Pear & Banana (Add Water) is perfect for babies 8 months and up who are ready to experience more advanced new tastes and textures. With yummy wheat, yogurt and apple, pear and banana all in one nutritious cereal, all you have to do is add water. Even better, it contains no added sugar – only added smiles!
Wheat, Yogurt, Apple, Pear & Banana baby cereal is a source of calcium, which aids in the formation of strong bones and teeth.
Wholesome cereals – offers 100% of the daily requirement of iron as part of 14 essential vitamins and minerals that aid in your baby's normal growth and development.
INGREDIENTS:
WHEAT FLOUR, DRIED YOGURT, WHEY PROTEIN CONCENTRATE, MALTODEXTRIN (CORN, RICE, POTATO OR TAPIOCA), DRIED SKIM MILK, DRIED BANANA, DRIED APPLE, DRIED PEAR, PALM OLEIN, CANOLA OIL, COCONUT OIL, SUNFLOWER OIL, BIFIDOBACTERIUM LACTIS. VITAMINS AND IRON: NIACINAMIDE, RIBOFLAVIN THIAMINE MONONITRATE, FERRIC PYROPHOSPHATE.