Gerber Graduates Toddler Snack Puffs Strawberry Apple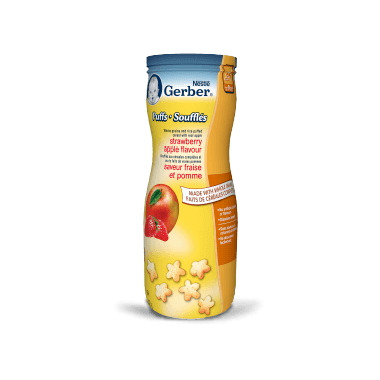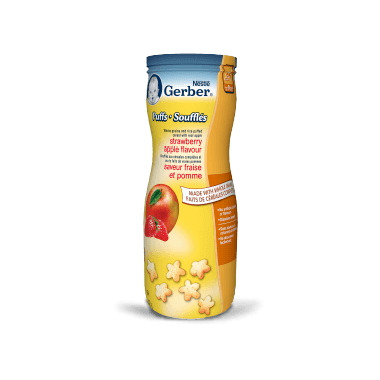 Gerber Graduates Toddler Snack Puffs Strawberry Apple
Gerber Graduates Toddler Snack Puffs Strawberry Apple Flavour NESTLÉ GERBER PUFFS Strawberry Apple flavour are light, easy to dissolve snacks made from puffed cereal grains and real apple, in a shape and size just right for little fingers.
PUFFS are a snack you can feel good giving your toddler, because they are made with whole grains and are a good source of iron and zinc. It's a quick snack that isn't just convenient it's nutritious. And that's something you can both smile about – wherever your adventurous toddler may take you.
Foods designed specifically for babies have stricter guidelines when it comes to nutrition. Unlike "all family" cereal products, salt is not allowed to be added to infant cereal-based products such as Puffs. So when considering introducing your baby to "all family" cereals, check that they do not contain added salt. Also ensure that they are designed to start dissolving right away, rather than being designed to keep their shape in milk.
Is your baby ready? Your baby may be ready for PUFFS when she:
Eats thicker, more textured foods with larger pieces
Crawls on hands and knees (tummy up and off the floor)
Uses jaw to mash food with gums
Holds small foods between thumb and first finger
INGREDIENTS:
RICE FLOUR, WHOLE WHEAT FLOUR, WHEAT STARCH, WHOLE GRAIN OAT FLOUR, SUGAR, DRIED APPLE, TRIAND DICALCIUM PHOSPHATE, NATURAL FLAVOUR, SOY AND SUNFLOWER LECITHIN, ZINC SULPHATE, MIXED TOCOPHEROLS, ELECTROLYTIC IRON.