Giddy Yoyo Organic Raw Chlorella Tabs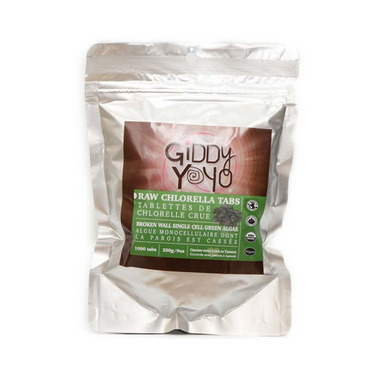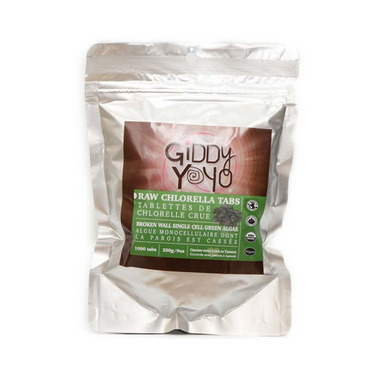 Giddy Yoyo Organic Raw Chlorella Tabs
Giddy Yoyo broken cell wall Chlorella is a single-celled fresh water grown algae and contains more chlorophyll per gram than any other plant in the world. Chlorella is a whole food and contains RNA, digestive enzymes, and is approximately 60% pure digestible protein. Giddy Yoyo Chlorella is grown under strictly controlled environments utilizing highly pure filtered underground spring water. The culturing ponds are exposed to the open thereby maximizing the benefits of sunlight. We utilize technologically advanced methods to crack the cell wall ensuring maximum digestibility and absorption. This chlorella contains NO fillers, binders, chemical solvents or heavy metals regularly used in food production.
Chlorella may; support the function of the brain and liver, improve digestion and elimination, protect against radiation, relieve inflammation, enhance the immune system, and overall accelerate the healing process within the body. Chlorella may also absorb toxins from the intestines, and combined with its ability to favorably alter the bacterial flora of the bowels, it may help relieve chronic constipation and eliminate intestinal gas. Chlorella may contain vitamins C and E, an array of B vitamins, amino acids, folic acid, beta-carotene, lysine, and iodine and may be extremely rich in iron and calcium.
Chlorella may be capable of removing alcohol and heavy metals from the liver, specifically mercury (which is widely present in the form of dental amalgam fillings) and may aid the body in breaking down persistent hydrocarbon toxins, certain pesticides and herbicides, cadmium, arsenic, lead, DDT, and PCBs. Chlorella may be effective in reducing the symptoms of numerous types of cancers, diabetes, low blood sugar, arthritis, AIDS, Candida, pancreatitis, liver cirrhosis, hepatitis, peptic ulcers, viral and bacterial infections, anemia, and multiple sclerosis.
Since Chlorella is a detoxifying whole food, not a concentrate or extract, a person may eat as much as they desire without it becoming potentially toxic. However it is important to introduce it gradually into your diet in order to allow the body to adapt to its deeply regenerative effects, especially on the digestive and intestinal systems.

Interesting Facts:
Chlorella may be an amazing detoxifying food due to its ability to neutralize poisonous substances in the body.
The broken cell wall may ensure bioavailability and absorption.
Chlorella may contain more directly available chlorophyll per gram than any other plant in the world.
Chlorella may contain 60% pure digestible protein.
Chlorella is best taken before a meal (or with probiotics)to aid in digestion as it may cause probiotics to multiply at four times the normal rate.
1/2 teaspoon of powder = 2 grams, or 4 tablets = 1 gram
Standard Maintenance Dose: 12-20 tablets or 3-5 grams/day (but work up to this); recommended intake: 5-150 tablets or 1-38 grams/day
Special Considerations:
Some people cannot tolerate Chlorella, which might be due to a cellulase insufficiency. If you are unable to tolerate Chlorella try Giddy Yoyo INCAN SPIRULINA, or adding a digestive enzyme to your regime.
Ingredients:
Broken Cell Wall CHLORELLA Pyrenoidosa