Giddy Yoyo Organic Raw Goji Berries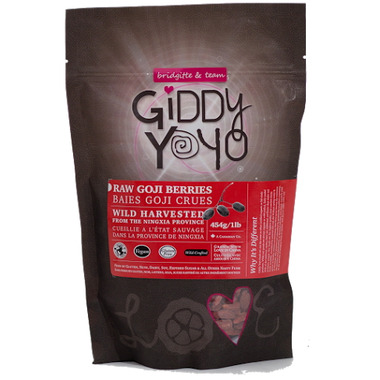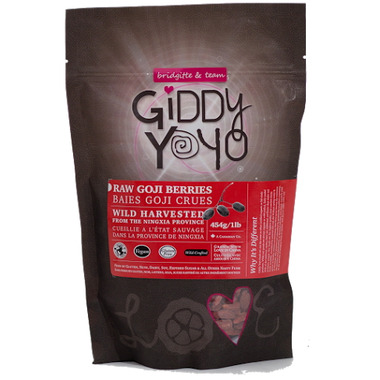 Giddy Yoyo Organic Raw Goji Berries
Grown in the wild pristine lowland fertile soil of the Ningxia Province, China. Farmers here use ancestral traditional sustainable methods that have been passed down for thousands of years.

Giddy Yoyo GOJI BERRIES are grown in protected valleys in both wild and cultivated areas of Inner Mongolia in million year-old soil where pesticides have never been used. Ours are regularly tested for hundreds of potential pesticides and chemicals to ensure purity and quality. Giddy Yoyo GOJI BERRIES are of superior quality, taste and texture and favored by our customers over other "certified organic" brands.

Goji berries are a fruit that are also considered to be an herb because they may contain most of the necessary vitamins and nutrients to sustain a healthy life. GY GOJI BERRIES are a great quick snack that may offer many health benefits, and may be one of the most unique nutritionally dense fruits and the finest antioxidants available (lab verified at 36,000 ORAC units).The antioxidants may protect human cells from harmful reactive molecules called free radicals which cause damage to healthy cells through oxidation. By consuming antioxidants, free radicals may be neutralized and existing damage may even be repaired.

Components of goji berries may include; all essential amino acids (higher than bee pollen), 21 trace dietary minerals, vitamins, monosaccharides, polysaccharides, fatty acids, linoleic acids, alpha-linoleic acids, phytosterols, beta-sitoterol, carotenoids, zeaxanthin, beta-carotene, lutein, zeaxanthin, xanthophyll, lycopene, cryptoxanthin along with calcium, potassium, zinc, iron, riboflavin, Vitamin C (100 gram serving provides nearly 100% of your daily recommended intake for vitamin C) and numerous others. These raw treats may be a great source of protein too (13%).

Suggested Usage: Add 1-2 TBS to smoothies, elixirs and teas, yogurt, oatmeal, soup, trail mix or simply eat raw by the handful. A therapeutic dose would be 1 to 2 handfuls (10 to 30 grams per day) - more can be eaten depending on individual needs.

Ingredients: 1/4 cup (about 1oz) GY GOJI BERRIES, 2 cups water.

Optional: 1/4 cup fresh blackberries, raspberries, blueberries or other fresh fruit to taste. Sweeten with GY Cane if desired. Soak goji berries in water for 4 hours or more, even overnight. Process in a blender until well blended – enjoy!