Grandma Lucy's Artisan Chicken Recipe Freeze-Dried Grain-Free Dog Food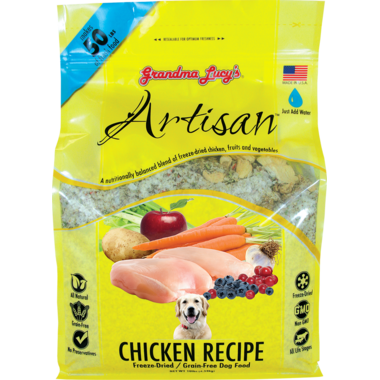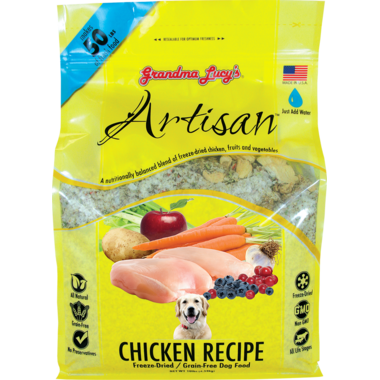 Grandma Lucy's Artisan Chicken Recipe Freeze-Dried Grain-Free Dog Food
Grandma Lucy's makes pure and simple pet food products, cooking for your pet the same way you would.
In their Freeze-Dried, Grain-Free Pet Food, they use only the finest, all-natural ingredients and nothing else!
Features:
Freeze Dried
All Natural
Grain Free
No Preservatives
Non-GMO
Made in California, USA
Directions:

For each cup of food add 1 – 2 cups of warm water.
Stir well and rehydrate for 3 minutes.
After 3 minutes, food may be consumed. Leftover food may be refrigerated for up to 48 hours.

3lb bag makes up to 15 lbs of fresh food. 10lb bag makes up to 50 lbs of fresh food.
Non-GMO, Grain Free, Freeze Dried